eCommerce awards 2021 finalists!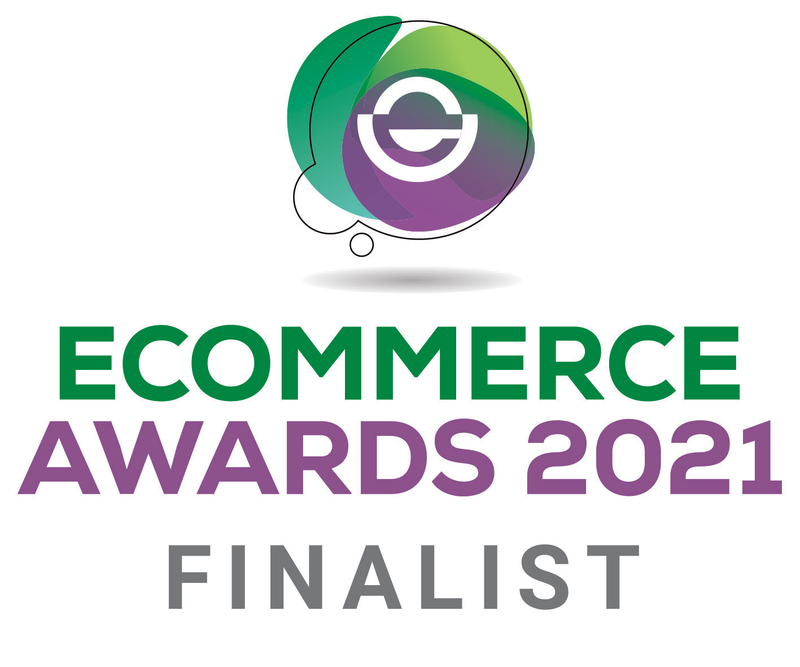 Now in their thirteenth year, the London eCommerce Awards celebrate the very best in UK eCommerce, with categories awarding five sectors from industry, marketing and engagement, to specialist, website and business.
The accolades and trophies are awarded to brands and teams who demonstrate clear ability and creativity to push boundaries with eCommerce website design. They are looking for innovative functionality, and effective marketing strategies that drive outstanding results for their clients.
It's about celebrating teams who ensure growth and profitability for their partners.
Finalists for 3 award categories
Despite the very difficult circumstances this year, the judges received a very high number of entries once again, and advised all shortlisted companies that it really is a great achievement to have made it to their 2021 shortlist.
Dozens of brands and agencies competed across 23 categories, and we are super proud and excited to hear that all three of our collaborative submissions with consultancy agency Customer First Digital, for our partner Face the Future cosmeceutical company have been shortlisted. Our categories are: 
🖥️ Best B2C eCommerce site
🧴 Best Health & Wellbeing Personal Care & Beauty eCommerce
🛍️ Best Website Launch or Relaunch 
Our Development Director, Tim is delighted to hear the good news "We are proud that our hard work in designing and developing this bespoke Shopify Plus website for our partners at Face the Future has exceeded all expectations, and that they are now reaping the rewards from their investment. Congratulations to our amazing herd and our partners at CFD."
Why we entered
Following our successful deployment of a bespoke Shopify Plus eCommerce build, and ongoing Marketing support, FTF are now enjoying record sales and exceeding migration forecasts due to significant improvements to their user experience and optimised site functionality. 
You can read more about this project in our Face the Future case study.
Client Feedback
"We made the decision to migrate our site from our legacy eCommerce platform to Shopify in the Summer of 2020, to future-proof our eCommerce strategy, ensuring we had a solution in place which would allow us to scale, whilst also being prepared for what was due to be the biggest peak trading period for online business.
Our team moved quickly to work with both Meta and Customer First Digital, ensuring our must have requirements for launch were captured, whilst taking into account future changes we would want to make, to continuously meet and exceed our customer's needs.
Not only did we manage to launch before peak, our first full trading month delivered our best revenue month ever, exceeding our forecast and delivering an outstanding 83% uplift year on year.
Face the Future has continued to grow in the first part of 2021, none of which would have been possible without the launch of the new platform. We feel confident that we have a solution that is best in class and will deliver on our future growth ambitions."
Paul Thompson, Owner of Face the Future, May 2021
Final Thoughts
We're all immensely proud of the amazing work our talented herd are producing with the Shopify platform to develop award winning eCommerce websites, and to drive outstanding results for our partners with our performance marketing expertise.
This is why we're known for #GrowingShopifyGiants and have set our sights on becoming the best agency in the UK.
We are looking forward to the ceremony in September and wish all other finalists the very best of luck too!