Live chat for Shopify stores: what are your options?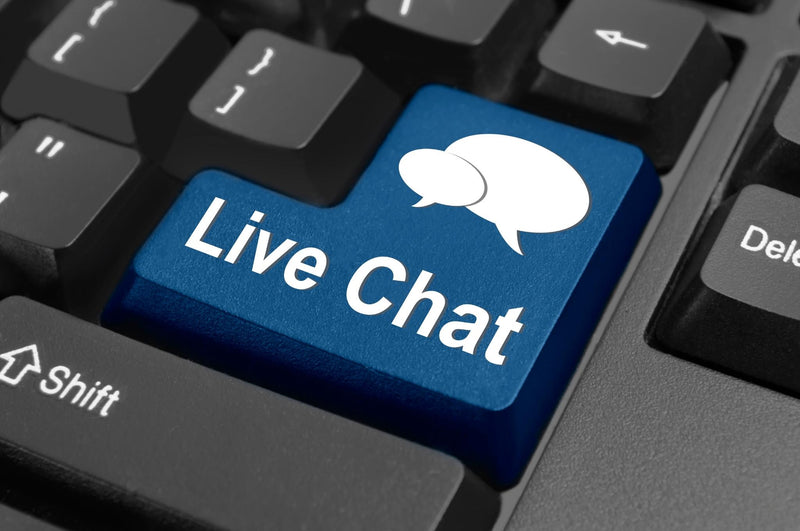 Shopify Inbox or chat is an app that allows you to manage your online store chat from either your desktop, iOS or Android device to interact with customers with personalised or pre-written responses.
You can customise welcome messages and inform customers of expected response times alongside additional information in automated responses.
Members of staff can be given permission to access and respond to messages in Shopify Inbox based on your requirements. To find out more about staff permissions take a look at the following Shopify help guide.
You can also gather insights into the performance of your chat to improve performance.
Read our handy guide on how to get started with Shopify Inbox and adding live chat to your Shopify Store.
Adding Shopify Inbox to your store
Depending on the type of device you are using there are varying instructions and permission requirements that will need to be set for it to function correctly.
Shopify Inbox desktop set up
To set up Shopify Inbox on a desktop computer you will need to navigate to shopifyinbox.com and then log in to your account.
Installing Shopify Inbox apps on mobile devices
Take a look below for installation tips on Android or iOS devices.
Shopify Inbox for Android
You can install the Shopify Inbox app from the Google Play store. You will then be prompted to log in to your Shopify account.
Shopify Inbox for iPhone & iPad
The Shopify Inbox app for iPhone and iPad devices can be found in the Apple Store, once installed you will be asked to log into your Shopify account.
It is worth noting that for devices operating on iOS 14 and above and you have third party Shopify apps installed in your store you may need to enable the Cross-Website tracking setting on your device. This allows the third-party apps to stay connected to Shopify Inbox and the mobile app.
How to enable cross-website tracking:
On your iOS device, open the settings app
Select Shopify Inbox
Select enable to allow tracking
Adding live chat to Shopify
Online store chat is included as part of Shopify inbox. As it is not enabled by default you will need to take the following steps to activate it:
Log in to Shopify
In your admin, select Inbox then Appearance
Select Visible in the online store chat visibility section
Save your settings
How to remove Shopify chat
You can disable the Shopify chat function following the steps below:
Log in to Shopify
In your admin, select Inbox then Appearance
Select Not Visible in the online store chat visibility section
Save your settings
Shopify chat customisation
When you enable the chat, it will become visible on your store, but you may still have to customise the button and the chat window to match the theme of your Shopify store.
Changing your Shopify chat greeting
There is a default message that will appear to welcome people to your online chat. The steps below take you through how to personalise this:
Navigate to Shopify Admin
Select Inbox > Appearance > Greeting
Click on the text box and add your personalised greeting
Save once complete
Pre-chat form information
The pre-chat form is ideal if customers become disconnected from your chat before the conversation is over as it collects their email address so that you can respond to their enquiry directly to their inbox.
Shopify chat branding
If you would like to change the style of the Shopify chat button to match that of your Shopify Theme you should take the following steps:
Navigate to Shopify admin and select Inbox > Appearance and then Brand Customisation
Use a hex code or select a colour using the colour picker
Choose the style of button you would like to use and select the position you would like it to show on your store using the button position drop down
It's worth noting that the online store chat is shown in the same language as your theme.
Adding saved responses
You can set up saved responses to help with customer communication with automated messages, instant answers and quick replies.
Shopify chat automated messages
Automated messages are great for responding to customers when you are away from your store and there are two types of messages you can customise for this.
Automated follow-up messages
You would use an automated follow up message to notify customers that their message has been delivered. You can customise this message to include information such as how long they should expect to wait for a reply.
When creating a schedule for the follow-up message you are able to set it to either send after a customer's first message or during specific hours. It is worth noting that the follow-up message is defaulted to active and so we advise editing it to add a personal touch.
Away messages
Away messages are sent when a follow-up message has not been scheduled. They are perfect for letting people know they may have to wait a little longer to receive a response.
Shopify chat instant answers
Instant answers are another form of automatic response and allow you to address your most frequently asked questions.
Upon opening the chat, a customer will see your greeting and a list of Instant answers including track my order. It is only possible to include seven instant answers at any one time excluding track my order, so it is important to consider which questions are the most frequent.
You can find out how to customise your instant answers on the Shopify site.
If a customer asks a question that does not fall under these FAQs, you will be notified of their enquiry via your Shopify Inbox.
Shopify chat quick replies
If there is a line of text that you would frequently include in a message to a customer, you can create a quick reply so that it can be inserted into your chat without you having to type it each time. For example, if customers often ask you about delivery charges you could create a quick reply answering this and directing them to your shipping policy.
Integrating other chat methods
Integrating additional chats to your Shopify Inbox will allow customers to message you using their preferred chat service.
If you have Facebook or Instagram customers can contact you and you are able to respond to these messages from your Shopify Inbox.
You are also able to connect Apple Business Chat using the Apple messages app if people are browsing your store via an Apple device.
Our 10 Shopify live chat tips
To optimise customer satisfaction, take a look at our top recommendations for using Shopify live chat:
Typos can look unprofessional and whilst slang or abbreviations may be quicker to type you still need to remain professional, keep emojis to a minimum
When responding to a customer's enquiries or asking them for additional information do not forget your manners, avoid giving one-word answers
Introduce yourself when chatting to let the person know you're a real person and not a bot
Set up instant answers to address frequently asked questions
Ensure you have automated responses set up to set expectations of when a customer can expect a reply, don't forget to schedule them
Monitor live chat activity to improve on internal training and employee support
Ensure the tone of voice used in chat matches that of your brand to keep brand consistency
Monitor insights into your chat to improve on the quality of service
Do not give out sensitive or personal information via chat
Offer to follow up with a customer via email if needed
If you're looking to improve customer communications, increasing ROI and customer satisfaction talk with us today about our approach to performance marketing.