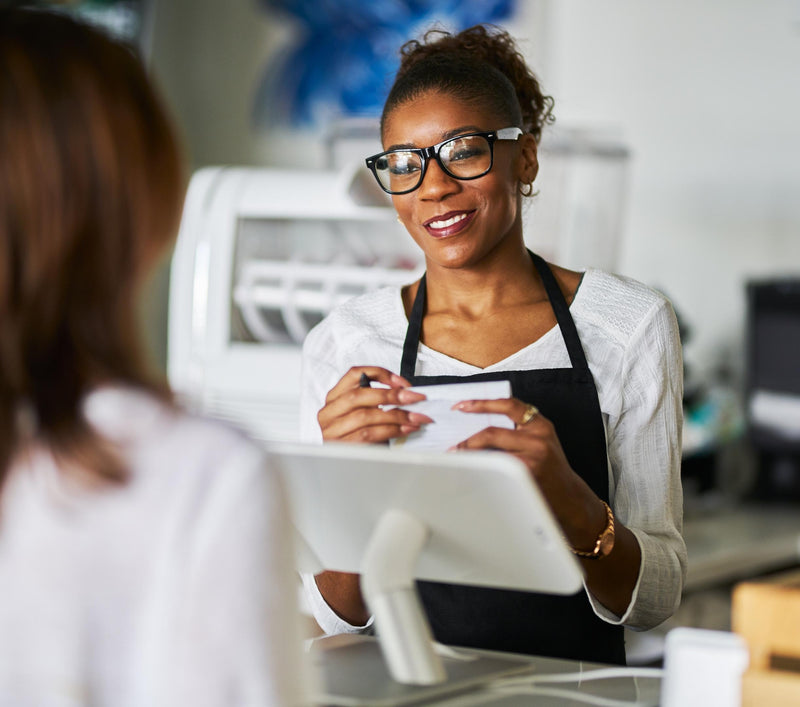 Are you looking for a seamless way to blend both your digital store and bricks and mortar retail operation? Be able to utilise state-of-the-art hardware and have generate increased revenue with fully synced customer profiles, segmentation and loyalty program integration?
If any of that sounds like something you are looking for, then Shopify Point of Sale could be the solution.
In this helpful guide, we'll take you through exactly what to expect from Shopify POS.
What is Shopify POS?
Shopify POS allows you to, with ease, combine your offline bricks and mortar store sales operation with your eCommerce site. This will give you a seamless, industry-leading digital integration that you will be able to build your retail business around.
With Shopify POS, you can benefit from powerful point of sale technology which allows you to turn any mobile device into a POS device. It is as easy as straightforward as just downloading the app from your app store and loading it up on your iOS or Android device.
 Not only can using a mobile device, potentially save you money on costly hardware, but you can also customise the interface to suit your business and your customers, whether you are a pop up or a fully-fledged retail store.
Keep the apps that you use the most in your customer journey close to hand so you can create seamless checkout journeys.
How can Shopify POS help my business grow?
The answer to that question can be easily encapsulated by looking at the breadth of what Shopify POS can do.
My five top reasons why Shopify POS will enhance your business are:
1. Your customers will love it
Use individual customer profiles to create some really engaging retail experiences. Use Shopify POS to reward shopping loyalty and to host events.
Launch products to those customers who are most relevant, and with flexibility around delivery and collection options, you can enable your team to deliver service excellence.
2. Sell across all channels
Both online and offline your customers will benefit. Shoppers will be able to pick up in store after shopping online. And for fans of physical shopping, you can attach QR codes to products which will allow customers to research the merchandise in more detail online.
3. Manage your business quickly and easily
Manage your inventory both on and offline with ease, reduce errors and create forecasts and benefit from a wide range of reporting tools to help you manage the inventory that keeps your business making money.
Reporting tools are simple and easy to use, not only the usual sales reports, but a simple dashboard to identify run rates, in addition to product, discount and cash low reports. Combining the on and the offline in this area is a really powerful tool for any retailer.
4. Team POS management
Shopify POS allows you to apply approval limits for refunds and exchanges to team members, and you will be able to report back on individual sales performance. Useful if you apply commission, bonuses or rewards.
You can also email customers with their cart items if they did not complete their purchase in store. 
Think about how great your team will feel if a customer converts after receiving a follow up email from one of them. All possible with Shopify POS.
5. Market to your customers in new ways
Your inventory will integrate and sync with the Google Merchant Center, keeping your inventory up to date and preventing errors that could cause your shopping channel to go offline and in turn, lose sales.
Integration with your social media and email channels is easy, create campaigns and opportunities that will engage with your customers. Your customer can also leave reviews with ease, adding value to your search engine results.
6. Getting payments is so simple
The basic building block for any retailer is making sure customers can pay and complete a transaction with ease.
These days it's not a large white plastic till in the corner. Customers expect payment options like partial payments, being able to split a transaction across different payment methods, and to be able to use digital wallets to pay. All this is achievable with Shopify POS, as well as easily being able to redeem gift cards.
Shopify POS hardware
The hardware that Shopify POS uses is industry leading and has all the features that you would expect, built in payment processing, competitive rates and looks pretty good too.
You will receive payments instantly and can monitor sales live within your Shopify dashboard.
If you're planning on going to an event, you can use your mobile POS device and take your business wherever you want to go, (subject to signal limitations of course).
You can use your current devices, in particular mobile devices, but Shopify do recommend that you use their card readers.
You can learn more about supported hardware on the Shopify site.
What devices support the Shopify POS hardware?
The Shopify POS app works with devices that meet the following requirements:
iPhone – iPhone 7 or newer, running iOS 13 or newer
iPad Air – Gen 2 or newer, running iPadOS 13 or newer
iPad – Gen 5 or newer, running iPadOS 13 or newer
iPad Mini – Gen 4 or newer, running iPadOS 13 or newer
iPad Pro – All iPad Pro models are suitable, as long as they run iPadOS 13 or newer
Android – Android devices that run version 7 (Nougat) or newer are suitable
How to get Shopify POS
Getting set up with Shopify POS is easier than you might think. If you are interested in learning more, get in touch with Herd to find out more.
Thinking about making the switch to Shopify Plus? Learn why it could be the right choice for your business with our top reasons to make the change to Shopify Plus.