How to manage 'out of stock' SEO for eCommerce during a pandemic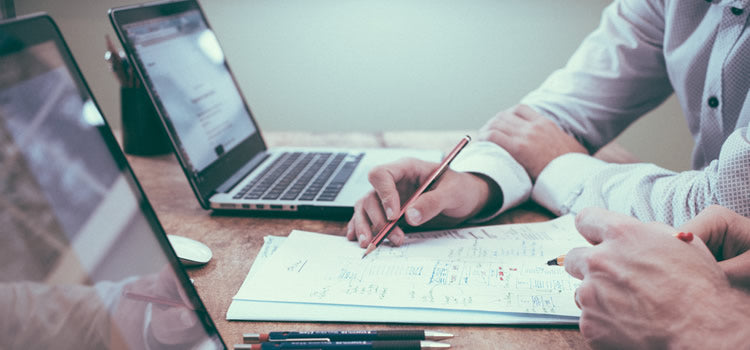 Creating a suitable 'out of stock' strategy for your product lifecycle can be a challenge at the best of times. Throw a pandemic like COVID-19 into the mix and you have a recipe for disaster!
I've been speaking to ecommerce retailers over recent weeks and have pulled together my top tips to ensure you're not putting your business at risk when deploying an 'out of stock' strategy.
Pandemic 'out of stock' pitfalls
Over the last few weeks I've been asked the following by ecommerce businesses that are experiencing supply chain problems, or are struggling with fulfillment due to staff shortages, dispatch or delivery issues:
Our suppliers are not shipping stock or have stopped drop-shipping – should I keep taking ecommerce orders?
I'm receiving too many orders to process – is it OK to add a password to my store to limit access?
We've had to furlough most of our warehouse team that pick, pack & ship orders – with processing taking longer, do we need to inform our customers?
There's been a significant increase in demand for our products – what can we do to keep up with demand?
People are not shopping for our products at the moment (e.g. swimwear, bridal clothing, gym bags, hiking equipment) – should we temporarily close our ecommerce store?
During a crisis like COVID-19, it's easy to fall into a trap of not thinking logically. There's a number of reasons you may find yourself asking any combination of the above questions. At this point, it's important to take a breath and remember that the same typical stock availability strategies can work with a few small tweaks.
As a last resort, temporarily disabling ecommerce functionality may be on the cards and you'll need to ensure you do this carefully to negate the chances of hurting your business.
Read our COVID-19 ecommerce lockdown strategy for more tips on ecommerce and trading through the pandemic.
Typical 'out of stock' scenarios
There are typically three 'out of stock' scenarios to think about for ecommerce inventory when it comes to product lifecycle:
The product is temporarily out of stock, and will return soon – do little
The product is out of stock, but will return, eventually – do something
The product is permanently out of stock/end of line and will not be returning – do everything
How you approach each of the above scenarios with regard to your category, PLP's, product availability and redirects can have a huge impact on organic search engine visibility.
Handling stock lifecycle with SEO in mind has been covered many times in the past. For the purposes of this post, I've summarised each approach with a few changes in mind during the pandemic.
Scenario one: Temporarily out of stock, and will return soon
The simplest scenario to handle by changing very little on your product page(s).
The main decision to make here is whether to continue selling, or pause selling with an appropriate 'out of stock' message for your customers.
If you do have a clear date (in the near future) as to when products are back in stock for fulfillment, you may decide to continue selling when out of stock. Shopify's product inventory management allows you to achieve this easily with a small change in product inventory settings for variants – see below.
Remember to inform customers if there's any change to your delivery terms & conditions (where the dispatch of a product could be delayed slightly).
Where you decide to pause selling products, remember to set the availability attribute using your preferred structured mark-up from schema.org to tell users and Google your product is 'out of stock'. I'd recommend JSON-LD to implement schema on your website which Google seems to favour.
Finally, give users an option to leave their details to receive an "email me when back in stock" notification. This can help recover sales that might otherwise be lost to your competition.
Key actions to consider
Continue selling when product is out of stock
Set availability of products using your inventory control & update schema availability
Add a clear crisis notification to your site during the pandemic
If you don't have this functionality on your Shopify store, our experts can implement stock notifications, implement inventory control and automatically set your product availability for you.
Scenario two: Out of stock, but will return eventually
If the product is out of stock, but will return eventually, there's still an argument to retain your category and/or product landing page(s). At this point, you likely don't have an ETA as to when the item will be back in stock and you should clearly state that product(s) are unavailable. Remember to set the availability attribute (as above in scenario one) to tell users and Google your product is 'out of stock'.
Give users an option to leave their details for product updates and to receive an "email me when back in stock" notification. Consider suggesting other similar products and cross-sell to these alternatives.
Items that fall into this scenario could be seasonal products (Christmas, Valentine's Day, Easter etc.) or more recently, ecommerce categories that have been impacted by supply chain issues with no clear lead times on availability.
Usability and avoiding negative experiences (visitors arriving on product pages that are out of stock for long periods of time) will determine whether you keep product pages in place or delete/hide product pages, redirecting to the parent category until items are available again.
When deciding whether to hide or delete product pages and 301 redirect to a parent category, follow the redirect considerations in scenario three below.
You should add a suitable message to the category landing page(s) explaining items are not currently available but will return later. Finally, link to other choices that might be appropriate, e.g. Spring/Summer collections vs. Autumn/Winter that are not currently available.
Key actions to consider
Set availability of products using your inventory control & update schema availability
Pause marketplace integrations – your products could still be syndicated & available elsewhere
Add a clear crisis notification to your site during the pandemic
Keep customers informed with your response to the crisis & extended information
If you need help implementing any of the key actions in 'out of stock' scenario two above, our experts would be happy to chat through your options.
Scenario three: Permanently out of stock & will not be returning
The likelihood is that products impacted by the pandemic will not fall into this scenario, however it's still worth considering if products will not be returning for some reason. When a product is out of stock and gone forever, the first thing to establish is whether the product has any link equity (backlinks) pointing to the page or still receives traffic.
Where a product has no backlink equity and no longer drives traffic/conversions, you can safely get rid of it to avoid unnecessarily adding to user frustration, bounce rates and crawl bloat. Leave the page to 404 (not found) so it can be removed from index and search engine results pages.
Where a product does have backlinks or still drives significant levels of traffic/conversions, we have three options available to us to preserve historical SEO efforts:
Redirect to the parent category page with a 301 permanent redirect, although take care as Google may class these as soft-404s by redirecting to inequivalent content
Redirect to an alternative product page with a 301 permanent redirect, ensuring that you redirect to equivalent content to preserve SEO benefits
Re-use the product URL and place a 'new' product on that page. This might sound unworkable, but can be the best option for end-of-line products that are superseded by new products that are virtually the same
Generally, the best redirect strategy is to 301 the URL to a product equivalent with similar content. This will have a better chance of leading to conversions than redirecting to a parent category page. By using a 301 permanent redirect, you're also signaling to search engines that they should pass the link equity to the new product page. The key here is ensuring the page is relevant and equivalent – redirecting to a product that has nothing to do with the users original search intent won't work!
Key actions to consider
Delete product pages where appropriate to remove them from search index & results pages
Implement an appropriate 301 permanent redirect strategy when deleting pages
Add a clear crisis notification to your site during the pandemic
Keep customers informed with your response to the crisis & extended information
If you fail to manage your 'out of stock' redirect strategy correctly, Google may class certain redirects as soft-404s, meaning that any link equity from these historical URLs is lost. Drop us a line if you need help with your Shopify stock lifecycle and SEO.
Minimise the impact for your customers...
Throughout the pandemic, remember to think like a service provider – as an ecommerce business, your goal should be to minimise the impact for your customers, ensuring they still want to shop with you in the longer-term.
As an extension of the typical out of stock strategies for ecommerce, you should also consider the following.
Add a clear crisis notification to your website
Whether it's a message to let customers know that your deliveries may take a little longer, or to re-assure customers that you're taking extra precautions, be transparent. This will maintain trust and avoid disappointment if a delivery takes a little longer than usual and you're not able to honour to 'next day delivery' promise for orders before 12pm.
This week, we've been rolling out crisis notifications in Shopify themes that are fully customisable by ecommerce owners. An added bonus is that the update doubles up as a promotional messaging bar – when COVID-19 blows over and you're ready to shout about your next offer, edit your notification bar yourself and enable it instantly, without the need for development support. Here's a few examples in the wild of the notification banner in place:
Kollect PLC
Kollect specialise in bin collection, skip hire & junk Removal. They decided to add a notification banner with their response to COVID-19 outlining precautions being taken for customer and staff wellbeing.
Deck Supermarket
Deck Supermarket who specialise in decking & handrailing supplies took the decision to temporarily pause ecommerce functionality in response to COVID-19 which is clearly highlighted in their notification banner.
AET Motorsport
AET Motorsport, turbo & performance tuning specialists response to COVID-19 see's them continuing to ship the majority of orders, with some delays in service.
Keep customers informed with extended information
Where detailed information on your response to a crisis is required, linking to a further information page in a blog post or similar is a great idea. The following brands are good examples of COVID-19 responses in the wild:
Kollect on Demand COVID-19 response – in the above example, Kollect link to a blog post with further details about waste collection being an essential service as deemed by the Government along with the latest information on collection services and delivery times.
Deck Supermarket COVID-19 response – linking to a blog post with further details about existing orders placed and when they hope to re-open.
AET Motorsport COVID-19 response – continuing to trade, shipping the majority of online orders with some disruptions to service
Disable 'buy' buttons temporarily
If you've already exhausted other options, here's my advice on how to temporarily disable ecommerce functionalityy without damaging your search engine visibility.
Under normal circumstances, you might take the decision to continue taking orders/backorders when an item is out of stock (but returning soon). In a crisis, when you're not sure how long it could take for normal service to resume, it might be an idea to disable your 'buy' buttons to prevent customers placing orders.
Where you'd typically disable a single 'buy' button at product page level (based on stock levels), if it becomes necessary to roll-out a site-wide ecommerce lockdown, you'll want to do this in a pain-free way that minimises potential damage to your business.
Depending on your ecommerce platform, setting stock levels to zero (if you track inventory), or toggling 'buy' buttons OFF on product pages could be an option. Remember to follow all the usual out of stock guidelines scenarios above and set your product availability via schema to 'OutOfStock'.
Disabling Shopify 'buy' functionality during a crisis
There's a couple of easy ways to do this in Shopify, depending on how you're inventory management is configured.
When you're using Shopify's inventory management, reduce your inventory temporarily to 'zero' across impacted products and set 'Continue selling when product out of stock' to false. You could achieve this with a product export / import, but remember to keep a back-up of your original stock levels to reinstate them when you're ready to start selling again!
Implement a site-wide toggle of your 'buy' buttons to 'unavailable' buttons that temporarily disable ecommerce functionality – you may need development support to achieve this (remember to think about JavaScript product quick views as well as standard product pages and any automated basket recovery emails that might be running)
We've been implementing ecommerce lockdowns without the need to edit stock feeds using the site-wide toggle of 'buy' buttons mentioned above. If you're looking to roll this out, our Experts are on hand to help.
Add stock notifications on product pages
Much like in a typical 'out of stock' scenario, adding stock notification functionality on your product pages is a good idea. For potential customers, it allows them to receive updates on when a product they've shown interest in when it's back in stock. As a retailer, it gives you the opportunity to re-capture a sale that you would have otherwise lost.
Here's an example of our stock notification data capture and ecommerce lockdown on Deck Supermarket via our site-wide 'buy' button toggle.
Provide email updates
If you've gone to the trouble of collecting email addresses via a 'notify me' when products are back in stock, remember to use this information! Some ecommerce platforms will enable you to send automated stock notification messages if you're using inventory control.
Consider emailing your existing customers with any important updates that might impact current services, or as and when things return to normal.
Consider marketplace integrations
Where you've implemented a multi-channel marketing strategy, you'll need to consider the impact that disabling 'buy' buttons or temporarily implementing an 'out of stock' strategy will have on marketplaces such as Google Shopping, Amazon, Facebook and eBay.
If you're fortunate enough to be using Shopify, disabling product availability on these sales channels is a simple task and will prevent those items being syndicated to connected marketplaces – see example of setting Shopify Sales Channel Visibility on Deck Supermarket below:
Put your users first, but don't forget about search engines
Desperate times can mean desperate measures, but remember to think longer term – your search engine visibility is important to maintain, even if you're disabling ecommerce functionality temporarily. Here's a few do's and don'ts:
DO consider all your options before locking down your ecommerce site
DO keep customers informed throughout the pandemic – a timely email could lead to potential sales
DO carefully set availability on products (inventory management is more important then ever) and adapt your 'out of stock' strategy with SEO in mind
DON'T add a password or completely disable your store – there are better options to maintain your organic search visibility and avoid damaging your business
DON'T accept orders if you have no clear dates for dispatch & delivery
DON'T alienate customers with a poor experience – it will only lead to returns & negative reviews
Final thoughts
Keep calm & carry on – the current situation is unprecedented but rest assured, things will return to a "new normal" post pandemic. Ensuring your business emerges on the other side in good shape relies on having a robust strategy in place that satisfies both user and search engine requirements.
There's no "one size fits all" when it comes to ecommerce strategy for COVID-19 – different sectors have been impacted in different ways. Get in touch to chat through short term strategies that will help right now as well as longer-term objectives for your business on the other side.