How to reduce your online carbon footprint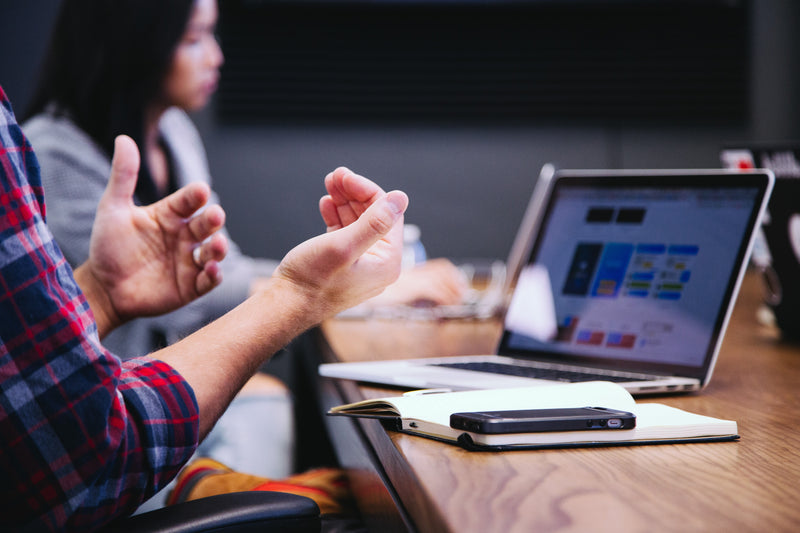 The aim for the planet is to become net zero by mid-century and keep warming to 1.5 degrees in an effort to reduce the frequency of extreme weather events and the melting of the polar ice caps. Countries are being asked to come forward with ambitious 2030 emissions reductions targets that align with reaching net zero by the middle of the century.
With this in mind, there is a lot of talk about reducing your online carbon footprint. But what does this mean? And how can you achieve it?
What is an online carbon footprint?
When thinking about your own individual carbon footprint, we ordinarily think of transportation, plastic use as well as food, water and things like fast fashion. But it might shock you to know that everyone, individuals and businesses also have an online carbon footprint as well.
Every website you visit, every Netflix show you watch and every email you send adds to your individual online footprint. It's estimated that every email sent creates around 1g of carbon (which is about the same as a normal-sized metal paper clip).
A study by the University of Bristol back in 2016 estimated that the number of YouTube videos watched over those 12 months released over 11 million tonnes of carbon dioxide into the atmosphere – and with YouTube gaining in popularity since then, it's likely this will have increased dramatically.
How can I reduce my online carbon footprint?
It's easy to be overwhelmed when looking at ways to reduce your carbon footprint, but the good news is that reducing your online carbon footprint is easier than you might expect. Here are some of our top tips to help you on your way:
Always shut down – shutting down your computer once you've finished rather then leaving it on standby can help reduce carbon emissions.
Do more offline – we've all become used to the power of the internet, but taking steps to reduce your online activity will help. Limit social media use for the full family or play board games rather than watching that latest Netflix film.
Green search – search engine Ecosia allows you to do your bit to reduce carbon emissions. Profits from Ecosia are directly given to tree planting projects across the world.
Size matters – smaller gadgets use less power, so if you can use your mobile rather than a laptop or PC, go for it!
How can businesses reduce their online carbon footprint?
Ok, you're an online business looking to reduce your web-based carbon footprint. How can you do it?
Website development
You might have seen an increasing number of sites using a toggle to switch between a dark and a normal theme. A dark theme reduces the amount of work individual pixels need to do, therefore improving battery life and reducing carbon emissions.
From a coding perspective, keeping things clean, simple and tidy reduces the amount of energy used to load a page – therefore reducing those carbon emissions.
Technical SEO & content marketing
The longer your site takes to load, the more carbon is released into the atmosphere. So not only is getting your speed up to par great for user experience and SEO, but it'll also help the environment too.
When we optimise a site to boost keyword rankings, we are helping people reduce the amount of time spent looking through search engines, and therefore their time on the web.
Content has a direct impact on the amount of time someone spends on your site. A good and robust content strategy will see consumers spend useful time on your website without wading through content that offers no value to them. Efficient blog posts for instance maintain user benefit but reduce wasted time online.
Email marketing
Each email you send creates 1g of carbon dioxide, so really honing your email strategy will help reduce the number of emails you have to send to your customers while having a positive impact on open-rate and revenue.
What is COP26?
The COP26 summit, also known as 2021 United Nations Climate Change Conference is being held in Glasgow as a partnership between the UK and Italy. Originally scheduled for 2020 but delayed because of the COVID-19 pandemic, COP26 brings together around 30,000 attendees to commit to tackling climate change.
COP26 is seen as a critical point in the climate change journey as it's the first moment where individual countries set out goals for ending their contributions to climate change that were first discussed in 2015 at the Paris Agreement.
How can the herd help you?
We are online experts with decades of experience creating transformational online stories for our partners, and as we all try to move towards a greener future, our herd is ready to help your business! From website development and email marketing to SEO, content marketing and paid search, get in touch with us to kickstart your own green revolution.
What are we doing as a business?
We're proud to invest in a sustainable future both online and offline, and our Hessle HQ in East Yorkshire uses solar panels to create green energy, saving more than 1100KWh since their installation in September 2021. The office renovations that were completed when we first moved in back in 2017 included the removal of old fluorescent lightbulbs, replacing them with energy efficient and long-lasting LEDs.
Our website also uses sustainable energy and emits nearly 60% less CO2 per visit than other sites according to the Website Carbon Calculator, and we're always on the lookout for new features to improve this score further.
Our Development Director, Tim Powell said "We're a forward-thinking agency and this applies to our own footprint as well as the marketing and development work we do for our partners. Always ready to invest in a green future, our business' carbon footprint is something we look at on a regular basis."