What is Shopify Audiences?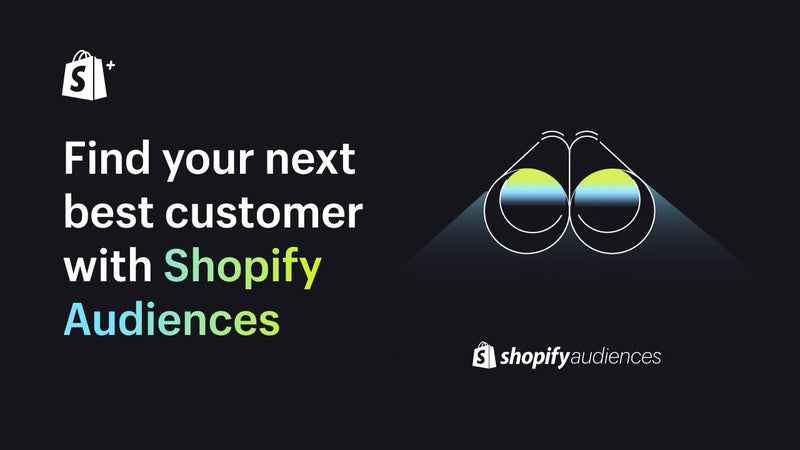 The introduction of Shopify Audiences will no doubt be a way to combat changes in data privacy changes and the phase out of third-party cookies.
In 2021 Apple launched the iOS 14.5 update which meant that when users used apps such as Facebook on their phone, they got a notification from the App Tracking Transparency tool asking if they wanted to continue to allow the app to continue tracking their activity on other sites. When a user opted out of tracking this affected the collection of data to personalise ads, report on performance and limited the tracking of conversion events.
Google also recently announced that they will no longer be supporting third party cookies which means that there is a large shift in the way marketers will need to strategise their collection of first party data. Find out more about these changes here.
How do I get started with Shopify Audiences?
What is Shopify Audiences?
Shopify Audiences aims to boost top of funnel acquisition by identifying and targeting high intent buyers across Facebook and Instagram.
Currently Shopify Audiences are only available to Shopify Plus stores, using Shopify Payments and based in Canada or the United States of America. There are plans to roll this out across other territories soon.
Whilst audiences are currently only available for Facebook and Instagram paid ads, additional channels will be introduced later this year.
How does Shopify Audiences work?
Shopify audiences are designed to work in conjunction with digital marketing platforms by allowing you to generate a list of buyers who are more likely to purchase your products.
This prospecting tool elevates top of the funnel ad campaigns, targeting high-intent buyers with a machine learning algorithm, leveraging data from Shopify stores to match buyer intent taken from the attributes of the products in your Shopify store and predicts which users are most likely to purchase from you.
Where does data for Shopify Audiences come from?
To create Shopify Audiences conversion data is exchanged across opted-in merchants on Shopify and then aggregated.
Data is taken from orders placed over a rolling 90-day period from opted in Shopify stores and that match intent from the product attributes can then be formed into your unique audience and added to Facebook to use them as a targeting criterion for your Facebook and Instagram ads.
Shopify Audiences uses a Shopify exclusive attribution model to demonstrate how orders are attributed to audiences.
When an order has been processed, they check if the email address matches a customer in your audience if this is the case it will be attributed to Shopify Audiences.
This attribution model will also include orders that have been placed within seven days of any ads that have stopped running but exclude people that may be in the audience but have not seen the ads on Facebook or Instagram.
What are the benefits of Shopify Audiences?
Audiences will benefit Shopify Plus merchants with a more targeted top of funnel prospecting which in turn will generate lower media spend costs with a higher return on ad spend.
Learn more about the benefits of switching to Shopify Plus.
How does Shopify Audiences impact data privacy?
Shopify have ensured that all collected data is anonymised. It is securely hashed so that store owners are not able to view any personal information or statistical data that is to be included in the audiences.
Once the audience list has been encrypted it is transmitted securely to the ad platform and cannot be downloaded. Once the audience data is matched to records held by Facebook the data is deleted.
By adding the Shopify Audiences app to your store, you are agreeing to contribute selective data to the audience network alongside other Shopify merchants.
It is vital that disclosure is made on data collection and how it may be used in your privacy policy. You will also need to allow customers the opportunity to opt out.
It is possible for you to turn off data sharing from your store, but you will be unable to create new audiences if you choose to do this.
How do I get started with Shopify Audiences?
There are two steps to setting up Shopify Audiences which are detailed below.
Shopify Audiences App set up
Check you are eligible to use Shopify Audiences before trying to install the app.
Log into your Shopify Admin and navigate to the apps section
Select customise your store at the top of the page, search for Shopify Audiences and install the app
Within the app, select set up audiences
Ensure you have turned on data contribution, agreeing to the terms and conditions
Select set up to connect your Facebook ads account
Click on connect and enter your Facebook account details and then select continue
Ensure you select the correct Facebook account that you intent to export Shopify Audiences to
Accept the terms and conditions for Facebook Custom Audiences
How to create your first Shopify Audience
Log into your Shopify Admin and navigate to the apps section
Select the Shopify Audience app
Select create audience
Select the product you want to base the audience on
Give your audience a name and select export audience
As your exported audiences will vary in size the export could take several hours to complete. You will be notified of its completion when the audience status changes to Ready.
It is worth noting that the audience size within the Shopify admin is an estimate and this could vary from the size specified in Facebook due to data matching, one of the reasons you could see this variance is because the person that falls into the Shopify Audience may not have a Facebook or Instagram account using the same details and therefore it cannot be matched.
There are limitations on who can be included in your audiences:
Their physical location must be the United States or Canada
They must be opted in to data sharing
Once exported, audiences cannot be updated, you need to make sure you export a new audience to ensure it includes new buyers on a regular basis
The number of audiences that can be created within a 7-day period is limited; you will be told this number when you export your first audience. The 7-day period starts from the day you export your first audience and your maximum audience export resets 7 days after this.
Find out more about Shopify Audience best practices in their guide.
Final Thoughts
Shopify are continually maximising their efforts to help their merchants acquire new and relevant customers by introducing timely platform and product updates. Shopify Audiences is no exception to this and will certainly be a welcome helping hand for digital marketers.
Whether you're looking for a Shopify Plus Partner for Facebook and Instagram advertising or want to find out more about the benefits of Shopify Plus, we are here to help. To find out more about our services contact us today.