Shopify Plus Vs Shopify - 14 reasons to choose Shopify Plus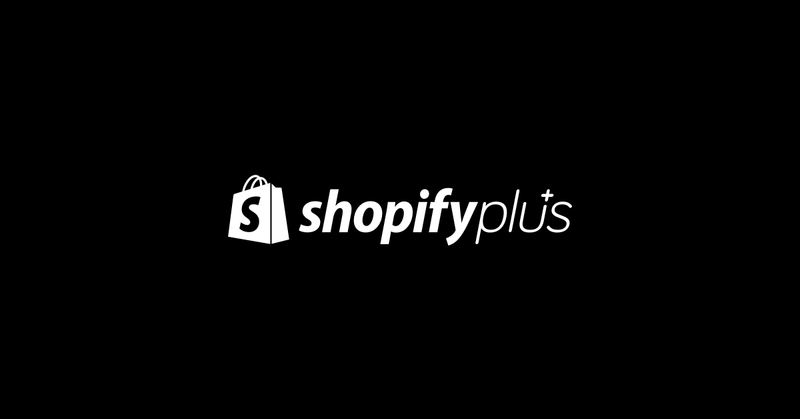 As experts in Shopify Plus, we get asked pretty much on a daily basis by our partners and prospects – "What are the benefits of Shopify Plus versus basic and advanced packages?".
If you are a small to medium sized eCommerce business, Shopify's basic and advanced packages are still better than any other option on the planet, in our opinion.
However, if you are an Enterprise brand or business who wants full control over your eCommerce and marketing proposition – Shopify Plus is absolutely the right platform for you.
In today's post, we will showcase what we see as the biggest benefits of Shopify Plus, from over ten years of delivering eCommerce solutions for brands everywhere.
1. Cost reductions for Shopify Plus
Shopify Plus comes at a premium, and it is rightly more expensive than other Shopify packages. However, in our experience, Shopify Plus as a platform is still typically much more cost effective than competitors such as Magento.
The monthly charges for each Shopify package no matter where you are, are as follows:
| | |
| --- | --- |
|  Shopify Plan | Monthly Cost |
| Basic Shopify | $29p/m |
| Shopify | $79p/m |
| Advanced Shopify | $299p/m |
| Shopify Plus | $2,000p/m |
Whilst there is undoubtedly a greater monthly expenditure for Plus, there is also a reduction in several costs, which for brands making roughly $1.2m in revenue every year, can make upgrading from the Advanced Shopify package to Plus, worthwhile if you take into account costs associated with things like third-party payment gateways.
Upgrading between the different packages brings a reduction in Shopify Payment transaction fees for territories that are Shopify Payment eligible.
Third-party payment gateways
If you use a third-party payment gateway, Shopify takes a percentage of the transaction. The transaction fee, per sale, varies depending on your Shopify package. With Shopify Plus there is a significant reduction in cost per transaction in comparison to other packages:
Basic Shopify – 2% fee, per transaction
Shopify – 1% fee, per transaction
Advanced Shopify – 0.5% fee, per transaction
Shopify Plus – 0% fee, per transaction
Pro tip: Use Shopify Payments instead of an external payment gateway provider to pay no transaction fees. For Plus brands not using Shopify Payments, the transaction fee is 0.15%.
Want to learn more about third-party payment gateways and what they mean for your business? Get in touch with our Shopify experts today for a consultation!
2. Wholesale Channel
For businesses with a B2B/wholesale offering, choosing Shopify Plus over other Shopify packages allows you to utilise the Shopify Wholesale channel app.
The wholesale channel means that you can enable a password-protected, separate version of your Shopify storefront, with the ability to offer wholesale customers your same product set, at different prices.
Using wholesale as a channel in Shopify Plus means that you can manage your customer base, stock levels and orders (whether B2C or B2B), through the same Shopify account.
In late 2022 we are expecting to see even greater things from the Shopify Plus wholesale offering.
Set-up wholesale customised pricing
When using the wholesale channel, there are several ways in which you can display different wholesale users (who have logged into your wholesale store), with different product pricing options. They include:
Percentage-based discounts across your whole store or a particular collection(s)
Set volume-based product pricing rules for products and variants
Present different prices to different wholesale customers, based on set criteria
Set fixed prices for products and variants in price lists
Set different pricing for products and variants based on the volume of products which a customer orders
Pro tip: If you are currently managing your wholesale and D2C websites as two separate offerings, combining the two may see your business reach the monthly revenue numbers that makes choosing Shopify Plus a more commercially astute decision.
Wholesale Configuration
Out of the box the wholesale channel has a pre-built optimised theme that allows you to get up and running quickly, with key functionality as standard:
Default theme – quickly configure the wholesale theme
Custom content - add content specific pages for the wholesale channel
Navigation – set the navigation for the wholesale channel
Minimum purchase – set a minimum amount for all customers
Retail prices – show both retail and wholesale prices
Out-of-stock items – allow items that are out of stock to be added to orders
Wholesale shipping rules – choose the same rules as your online store or choose free shipping or a flat rate
Account signup – allow new customers to sign up for a wholesale account so you don't need to invite them
3. Customise your checkout experience
One of our favourite benefits to Shopify Plus, which we see the biggest return-on-investment for our partners once enabled, is the ability to customise the Shopify checkout experience (through checkout.liquid).
In our opinion, the out-of-the-box Shopify checkout experience is better than many of its competitors. However, for enterprise businesses who have a well-thought-out brand identity and online shopping experience, the standard Shopify checkout does not offer the ability to provide users with the same experience as the rest of your website.
Some of our favourite ways to optimise the checkout experience within Shopify Plus' checkout.liquid include:
Enable a custom checkout breadcrumb menu
Personalise the checkout experience for customers by offering discounts and promotions
Add trust signals to your checkout such as review widgets
Dynamically update a customer's location for click and collect checkout
Calculate international taxes as part of the checkout process
Add Google Tag Manager code on your checkout to A/B test changes to your checkouts look and feel
For more information on how to customise your Shopify Plus checkout experience, get in touch with our Design and Development team today.
4. 9 free expansion stores
For global eCommerce brands who want to manage and maintain their different regional stores in one storefront, Shopify Plus is the answer.
Whilst you can run global eCommerce with the other Shopify packages, you will not be able to manage your international websites under one hood. However, with Shopify Plus, eCommerce brands are able to add up to 9 additional expansion stores, for free. This means you can manage up to 9 international websites at no additional cost.
Expansion stores come with all the necessary requirements for managing international eCommerce, from offering local shipping options and currency to providing a localised content experience that enables brands to improve conversion rates, enhance SEO performance and leverage paid media.
5. Shopify POS Pro Plan
Shopify POS is one of Shopify's biggest USPs. It gives eCommerce brands across the globe the opportunity to provide an omnichannel experience for customers, whether they are engaging with your brand online, in-store or anywhere else.
When choosing Shopify Plus, Shopify POS Pro Plan is included as standard – meaning you can leverage the full range of benefits POS offers, at no additional cost.
The main areas in which Shopify POS Pro can help provide a seamless online to offline experience include:
Manage, forecast and optimise your profit and error handling through smart inventory management
Provide a seamless omnichannel selling experience
Control permissions and track staff performance across stores, through your online store
Sync the checkout experience of your physical store locations with your online offering
Manage your product inventory online, offline and in multiple locations through Shopify POS
Combine your customer database offline and online to gain a greater understanding of your audience(s)
A joined-up analytics and reporting system for both online and offline stores
Use Shopify's POS hardware to enable POS offline and online
6. Free use of Shopify Plus Enterprise Apps
Alongside wholesale as a channel, Shopify Plus provides exclusive access to a number of apps, which are not available in the other Shopify packages. These apps have a variety of benefits, all based around giving customers of Shopify Plus the ability to make enterprise-level decisions, with ease.
A summary of Shopify Plus Enterprise Apps include:
Launchpad – schedule and monitor sales, releases, price and content changes on scale
Script Editor – create a personalised shopping and checkout experience
Transporter App – use the transporter app to import customer, order and product records into your Shopify Plus store from well-known platforms
Bulk Account Inviter – Invite your customers to activate their accounts on your online store
As part of any migration from Shopify to Shopify Plus, or from other platform providers, we work with our partners to ensure they are making the most of the Plus Exclusive Apps, automating processes and resolving pain points in their eCommerce experience.
7. Unlimited staff accounts
Your business will have access to a varying number of staff accounts, depending on the Shopify package you are subscribed to. However, for businesses using Shopify Plus, you will have unlimited staff accounts.
The following number of staff accounts are available in each Shopify package:
 Shopify Plan
Staff Accounts Available
Basic Shopify
2 

staff accounts

Shopify
5 

staff accounts

Advanced Shopify
15 

staff accounts

Shopify Plus
Unlimited staff accounts
Staff accounts give you the ability to provide individual staff members with permissions to login into your store and manage/complete a variety of tasks. These tasks can range from adding products, removing products and managing orders.
If you are a global eCommerce business or a national retailer with multiple physical store locations, having the ability to provide access to an unlimited number of staff members is likely a necessity rather than a wish.
Staff accounts can be set to varying levels of permissions for different users, within both your online store and POS. You can also set the levels of access each user has available to them – giving the right access to the right members of your team(s).
8. Up to 20 store locations
As an Enterprise brand, being able to manage multiple stores under the same Shopify Plus account is likely a critical part of your eCommerce strategy. You need the ability to manage orders, product inventory and performance in the same place.
Like staff accounts, the number of locations available to you within Shopify depends on your Shopify plan:
Basic Shopify – 4
Shopify – 5
Advanced Shopify – 8
Shopify Plus – 20 (although you can contact your Shopify Plus account manager if you need more)
Apps that help you manage physical stock inventory are treated as locations. E.g. a warehouse that manages stock for you is classed as a location. These apps, however, do not contribute towards your 20 locations included within Shopify Plus. Furthermore, locations which are deactivated do not contribute to your location total.
Here at Herd we work with a number of partners managing up to 20 stores, and we're yet to find a platform that enables store management to the same level as Shopify Plus.
9. Scale flash sales and new product launches
Flash sales and new product launches are an important marketing tactic for delivering sales and revenue for eCommerce giants everywhere. With Shopify Plus, brands are in safe hands when it comes to making the most of a huge spike in demand for your products, or brand.
Shopify Plus has built in technology to automate the management of demand and ensure your website can handle the expected increases in traffic, while stopping bots counting towards the hits to your server.
Shopify Plus Bot Protection
One of the challenges that brands face when launching a flash sale or new product, is stopping bots from beating humans to product purchases. It is not uncommon for people to develop bots (software) that are used to beat real customers to the purchase of new products during flash sale periods.
Shopify Bot Protection, which is only available to Plus brands, helps stop these bots from capitalising on your flash sale. Schedule Bot Protection in your Shopify Plus account within Settings > Bot Protection.
Pro tip: Shopify Plus Bot Protection can only be scheduled for a maximum of 60 minutes, and only one protected period can be scheduled at a time. Therefore, ensuring your bot protection is setup correctly for your flash sale is absolutely critical to managing and stopping bots from automating the checkout process on your website.
Steamforged Games Dark Souls Flash Sale
Working with our partner Steamforged Games, we implemented a flash sale process like no other for their Dark Souls Board Game launch. We utilised the automated Shopify Plus Bot Protection technology, in sync with their flash sale.
We then created a bespoke queuing system, with online waiting rooms for excited customers wanting to purchase the product. This helped Steamforged build anticipation whilst keeping customers engaged waiting to get on-site to purchase product.
Need help with creating and scaling the management your flash sale in Shopify Plus? Get in touch with our Shopify Plus experts today.
10. API rate increase for faster working bespoke apps
Shopify API rates are limited for all customers, in order to keep the platform stable and provide a fair working environment for all. However, as a Shopify Plus partner, you benefit from increased API rates, in comparison to other Shopify packages.
There are three different ways in which Shopify limits API rates, based on different use cases:
Time-based limits
Request-based limits
Calculated query costs
The below table provides an example of how rates increase for Shopify Plus brands:
 Read more about Shopify API rate limits here.
As a Plus brand, increased rates mean you can make your bespoke apps work faster, and harder – delivering enterprise level technology and an enterprise level experience for your customers.
11. Dedicated Shopify Plus account manager
Shopify takes great pride in helping merchants move onto their platform and make the most of all its benefits, with ongoing support via phone, email and live chat functionality for all users.
But if you are Plus Member, you will benefit from a truly world class, personalised experience. You can expect to be assigned a Shopify Plus account manager/launch engineer who works with you throughout your migration to Shopify Plus. Whether that migration is from another platform provider, or you are upgrading to Plus from another package.
Your account manager will be on hand to help with everything from advising on your store setup and migration, to finding the right apps to integrate your back-end office systems into Shopify Plus.
We work closely with a number of partners who have been referred to us by various Shopify Plus account managers. Your account manager will pride themselves on helping you find the right partner, based on your Shopify Plus needs.
12. Shopify Plus merchant success program
Shopify Plus also have an exclusive merchant success program, which all Plus members are invited to be part of. This merchant success program focuses on helping brands find solutions to ongoing challenges, as well as creating a unique community where you can engage with other partners.
You can expect to work with your merchant success team 24/7 to discover new ways to use the Shopify Plus platform, and engage with the community through:
Shopify Plus Academy
Shopify Plus Facebook Community
Shopify Plus meet-ups and invite-only events
For us here at Herd, we see this as one of the huge benefits to brands being on Shopify Plus versus Shopify alternatives. The community is one like no other, and something that we do not see being replicated by competitor platforms.
13. Unified dashboard reporting across all of your stores
Whilst Shopify's out-of-the-box analytics for standard packages provides unique insights for any individual store. As a Shopify Plus brand you will have access to their Organization Admin. The beauty of the organization admin is that you are presented with high-level information about performance, agnostic of store.
The unified reporting system provides two specific views for Plus members:
Combined performance for all your stores, specifically analytics data such as sales and orders
Analytics for each of your individual stores
This information helps you to get a holistic view of performance within Shopify Plus, and highlights both top performing stores and equally, stores that may be underperforming versus the baseline performance of your brand.
14. Shopify Plus Launchpad
As we covered within the exclusive Shopify Plus apps section of this post. Shopify Launchpad is only available to Plus partners. Launchpad gives Plus customers the ability to schedule and monitor sales, promotions, releases and content changes.
Launchpad is effectively a scheduling tool which lives within the admin section of your Shopify Plus store. It gives Plus brands the opportunity to schedule a variety of different eCommerce marketing techniques, with a start and end time:
Product visibility
Shopify scripts
Shopify theme changes
Promotions
Discounts
Product releases
Flash sales
Here at Herd, we help our partners setup and make the most of Shopify Launchpad to enable greater automation and deliver better results.
Shopify Plus summary
For many small and medium-sized eCommerce brands, Shopify's standard and advanced packages are revolutionary, in comparison to competitor platforms. However, Shopify Plus is the ultimate Enterprise eCommerce platform. Brands are able to benefit from automation of processes, enhanced customisation, and exclusive apps like the Shopify Plus wholesale channel.
Looking to migrate to Shopify Plus? Reach out to our herd of experts today for your 100 day plan to Shopify Plus. If you are considering a migration, make sure you read our 22 Shopify SEO tips to make the most of the Shopify platform.