Top takeaways from 'A Day With Shopify' 2017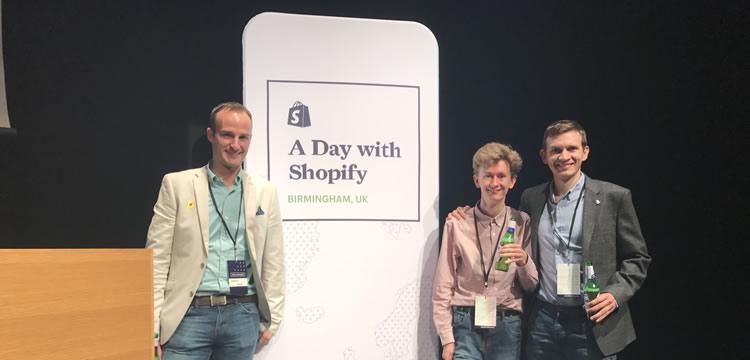 On the 4th September Tim, David and Dan (along with hundreds of other Shopify Developers) attended A Day With Shopify 2017 at the Library of Birmingham Studio Theatre.
What is 'A Day With Shopify', you ask?
It's a one-day event that gives Shopify Developers, Partners and Experts the chance to meet and learn more about the latest developments in store for the Shopify platform and the Partners ecosystem.
Tim Powell, our Software Development Director at Meta, had this to say about the event:
A Day with Shopify allowed us to spend time with key members of the Shopify team. Conference events are an integral part of our team development at Meta. They bring new ideas, instill enthusiasm and allow our team to stay at the cutting edge of the technologies we use.
This years event included talks from Brandon Chu, Product Director at Shopify as well as Gavin Ballard, CEO of Disco Labs and Michael Kashioulis, founder of Smart Cookie Design. Whilst the event was aimed at Shopify Partners and developers, we've still compiled our top takeaways below for business owners and agencies.
Seamless Shopify Migrations
A website migration is not a project to take lightly, with the most important part of any migration project being scoping. This is the work carried out before the migration begins such as looking at old vs new URL structure for redirects, customer data migration and transferring content. If you don't get the scoping of the project right, you're setting yourself up for failure as an unsuccessful migration could take many months to recover from.
Don't be scared to say no (to clients)
Saying no to a client seems like a bad thing to do, however there are circumstances where this can be the best thing to do for all parties. As an agency, our primary role is to carry out work that will increase the number of sales and revenue for our clients through either SEO or site developments.
In circumstances where budgets are tight or where targets are high the work carried out must be prioritised for maximum benefit. Therefore, requests that will not have the greatest impact should be deferred in favour of updates that provide a better return on investment. Saying yes to every task or request that you receive will not benefit your company or your clients in the long run, but instead will have a negative impact on the work being carried out.
Shopify App Development
When starting to think about custom Shopify app development, you should get your clients involved from the very beginning. As the target audience for your applications, it is important to find out what aspects of the Shopify platform they may be having problems with, and what tasks could be simplified by a custom app to improve their day-to-day efficiency and help maximise their revenue.
Requirements often have the potential to change mid-way through projects. One way for clients and agencies to accommodate this is with a flexi-fund strategy to budget for modifications in the spec and future maintenance.
Mastering the Art of Collaboration
Running a business with a close friend or partner has the unique benefit in that you know each other well on a personal level so you have a greater trust in your abilities and a better understanding of how you both work and think. However, it has the potential to cause conflicts that extend from your work-life to your home-life.
Making sure that you both run distinct areas of the business can help to prevent you from trying to overrule each other's decisions, and setting a cut-off time (e.g. 6pm) where you no longer discuss work-related topics can help keep your personal life separate and stop your office feuds from interfering with your friendship.
Final Thoughts
All in all, the team enjoyed the event and learned a lot from A Day With Shopify. We're looking forward to future Shopify events in the UK in 2018.