14 local SEO tips to maximise your sales and footfall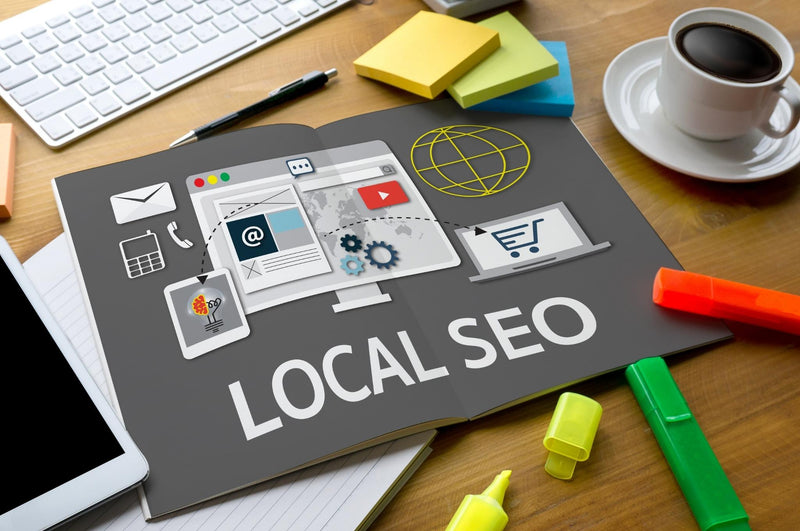 It's no secret that local SEO is a key pillar of a customer journey, particularly as we begin to exit a turbulent couple of years in the world of retail. Getting your Google Business Profile (previously Google My Business) up to date and optimised can be a daunting task, but I promise, it's not as bad as it sounds. By reading this guide, you'll be fully equipped to get in front of shoppers in your area and become a staple in your local community.
The beauty of local SEO is how versatile it is, whether you're offering holiday accommodation, selling coffee, or even offering accounting services, it simply cannot be ignored. After all, 70% of customers will visit a store because of information they found online - here's how to inform potential customers about your business, for free:
1. Make sure you've verified your Google Business Profile
2. Add 'products' to your account to surface them within SERPs
3. Where products aren't applicable, update your 'services'
4. Tag up any of your notable attributes
5. Add a button to allow customers to convert directly from search results
6. Reply to all of your reviews building trust amongst customers and search engines
7. Make your listing more visually appealing using images
8. Use videos and virtual tours of your premises where you can
9. Syndicate your details with relevant local directories
10. Keep your customers up to date using posts
12. Don't forget about Bing places
13. Align your Google business profile with on-site content is key
14. Use the insights tab to benchmark your success
Bonus. Don't be tempted to over optimise for local search intent
1. Make sure you've verified your Google Business Profile
First things first, you need to make sure Google knows that you actually own the business. There are two ways to verify your identity within GBP: telephone; or mail. Check out the 'get verified' button on the left-hand side to get started.
See the below steps for your desired verification method:
Telephone
This will result in an automated call which will then give you a code to input to confirm your identity. This is the quickest and easiest way to verify your GBP.
Postcard by mail
An alternative method is by using a postcard by mail. Input your name and business address to receive a postcard which contains your verification code. This can take up to 4 days to arrive, so if you're eager to get started, this probably isn't the best option for you.
2. Add 'products' to your account to surface them within SERPs
By going into the 'products' tab on the left-hand side, you are able to add your wares to your GBP listing. For each product, you can include:
Product image
Product name
Category
Price
Description
Button
Link
Unfortunately, there's no way to do this in bulk, meaning that it can be quite a time-consuming beast if you have an extensive product portfolio. If this is the case, it might be a better idea to give a taste of what you offer and showcase your main hero products.
One last thing that you'll want to bear in mind is that the order products are shown in your listing is based on 'newest last'. You might want to save your best until last to ensure that particular product gets the maximum visibility.
3. Where products aren't applicable, update your 'services'
"But what if I don't offer a product per se" I hear you cry. Well, GBP has you covered here too. Unfortunately, these services don't show up on desktop, this might change moving forwards, but with most searches happening on mobile, you can get some extra visibility by leveraging this feature.
Within the 'services' option in the left-hand navigation, you can bundle your services together like we have at Herd. You can also provide a short description and price range, should you wish.
How this looks in SERPs can be seen below.
4. Tag up any of your notable attributes
Make sure that customers know that they can visit your brick-and-mortar location with peace of mind using attribute tags. There is an extensive list of attributes to choose from, some of which are specific to certain industries, like restaurants and hotels. Examples of the main tags you might want to include can be found below:
Business - for example, if you are Black-owned, veteran-led or women-led, these are attributes you can share with potential customers.
Accessibility - Is your branch wheelchair accessible? Do you have parking? You can let customers know about accessibility right from your profile.
Health and safety - these attributes were added as a result of COVID-19, and allowed customers to feel safer when beginning to venture back into brick and mortar stores. Businesses are able to mark up whether masks are required, whether the staff wear masks, if reservations are required and much more.
Amenities - using this attribute lets customers know that you have wi-fi, air conditioning, restrooms, even whether you're dog-friendly, and so much more.
Service options - use this attribute to shout about anything extra you offer. Do you have a drive-through? Outdoor seating? Do you offer curb-side pickup or delivery?
Payment options - lets you share which payment options you accept. Do you accept cheques? What credit cards do you accept? Let your customers know!
5. Add a 'booking button' to allow customers to convert directly from search results
Setting up a booking button can reduce the friction to conversion. This is great for users, but perhaps not so much for your organic traffic – since customers complete the full journey on the SERP without ever visiting your site. Bear this in mind when checking your reporting metrics.
Have a look at the 'bookings' element in the navigation to get started. If you use one of the providers below, Google has already configured a button for you to add these to your profile, so it really couldn't be easier:
Appointy
Bookatable
Booksy
FullSlate
Genbook
MINDBODY
MyTime
Pike13
Rosy
SalonRunner
Setmore
Shore
SuperSalon
Wellness Living
Yocale
GBP itself states that "When you reply to reviews, it shows that you value your customers and their feedback". It's a great thing for customers when they see you respond humbly to feedback, but it also helps when you gracefully take accountability for experiences which don't meet your standards or customer expectations (remember, everyone makes mistakes – even the best retailers can't get it right all of the time).
This level of personability encourages customers to give you a chance, and also builds trust signals to help you rank more highly within the local pack. One of our local cafes does a great job of this, making all patrons feel welcome and valued.
7. Make your listing more visually appealing using images
Make sure you add images to your profile to let customers know why they should visit (a picture tells a thousand words). There are lots of different images you can add to your profile that will be added to SERPs which are covered below:
Logo
Cover
Interior
Exterior
At work
Team
The above give ample opportunity to share your personality and shine a spotlight on your team, just like we have for Herd and our GBP images in SERPs.
Customers are also able to share their own pictures of great experiences they've had in your establishment, with UGC being so important for search engines, this is another way you can generate this authority for free.
8. Use 360 videos and virtual tours of your premises where you can
360 videos are another great way to show people around your premises virtually. Depending on your industry, this might not be a viable option, however it's a great way to showcase the 'vibe' of your business provide another way for customers to evaluate this.
Offering content tailored for different types of customers will ultimately be rewarded by search engines. With the rise of VR, we're sure to see more local businesses adopt this technique.
You can explore our offices at Herd direct from GBP and see exactly where I'm sat whilst writing this, should you wish. Admittedly, it has been a while since we've refreshed our virtual tour, so we'll be reviewing this soon.
Unfortunately, functionality like this can be quite expensive, and it's certainly a little more challenging than some of the other recommendations in this list. It's your call whether this will be worth your time, money and effort.
9. Syndicate your details with relevant local directories
Once your GBP listing is optimised with all the relevant data, information and content, you can then start to think about sharing this listing with others. Consider using a tool like BrightLocal or Moz Local if you want a quick, cost-effective method of building local citations.
If you'd rather do this yourself, add your business to local directories, ensuring that NAP information matches up with your GBP profile to build authority and trust within local SERPs.
Some directories you might want to keep in mind are Yelp, FourSquare, Yellow Pages, etc. You might have some specific to your city or area, so do some research and syndicate your business out as much as possible. Remember that some top-tier directories, feed other directories, so picking those top-tiers will give you maximum coverage for effort.
10. Keep your customers up to date using Posts
Google Posts are a great way to keep shoppers up-to-date with in-store events. This could be anything from a guest book-signing event, or the start of your seasonal sales. Posts allow you to communicate directly with your audience, promote your products, and keep them engaged with videos, photos, and most importantly, your personality.
You can see how this looks for our Herd profile in SERPs below:
11. Get "Google Guaranteed" (if you can)
The first thing to note here is that this is currently only available in the US. That said, I'm including this local tip now, as it will likely rollout to other territories shortly, at which point I can sneakily remove this sentence.
There are plenty of verticals which are eligible for 'Google Guaranteed' - anything from acupuncture to snow removal can receive the 'Google Guaranteed' badge. This can help your sponsored listings stand out in the local search landscape, see a great example from sunny Florida below:
If you can apply for this badge and your business is eligible, there really isn't a reason not to.
12.Don't forget about Bing Places
Whilst not the most glamourous search engine, Bing have been working on some good features recently. With Bing also being the default search engine on Microsoft products, we shouldn't neglect this search engine when it comes to SEO.
Luckily, you can import all of your local profile data from Google Business Places to Bing Places (Bing Places for Business). This saves you having to optimise twice, which I personally love. To do this, all you have to do is go to Bing Places and click 'Get Started'. Once you've granted access, you don't need to do anything else to sync your GBP data to Bing - it's super easy!
13. Align your Google Business Profile with your on-site content (consistency is key)
Having a static landing page for each of your brick-and-mortar locations will allow you to build more local authority and target your content to location-based intent. Consider highlighting things like local landmarks, store-specific attributes, staff, and more on these pages. This is done really well by Richer Sounds and can be seen in action below.
This not only builds authority in your target area, but also gives you a static landing page that can rank – great if you unfortunately miss out on the local 3-pack listings.
14. Use the insights tab to benchmark your success
So, you've implemented all of these recommendations, your listing is looking awesome, and you want to make sure it is performing better as a result – how can you do this?
Check out the 'insights' tab within the Google Business Profile Manager. Here you can see lots of KPIs for your profile, and how you're trending over time. Some great metrics you might want to look at are the number of impressions your profile has accrued alongside the specific queries which have driven this performance.
Handily, it also tracks elements like calls, clicks, and bookings etc. Basically anything you could possibly want to see. The new 'performance insights' section definitely has a Google Search Console feel to it, so if you're comfortable with GSC, you should feel right at home.
One caveat - this platform only stores data for 6 months, so if you want a wider view, you may need to archive the data yourself, but if this shorter window is all you need, you'll be all set.
Bonus: Don't be tempted to over optimise for local search intent
Don't be tempted to over optimise your business for local search intent by adding keywords to your landing pages such as "near me", "nearby", "around me", "close by" etc.
In the past, this king of tactic has been used to try and game local-3 pack listings, but Google are now far better at determining local search performance, and ignoring content that contains these types of keywords.
Businesses have even been known to include local intent in their registered business name, such as "Accountant Near Me Limited", "Bailiffs Near Me Ltd", "Near Me Taxis Ltd", or "Hair Salon Near Me Ltd".
A recent article by Search Engine Land (Surprise: 'Near me' brand names don't rank higher for 'near me' searches) goes into quite some detail to debunk the myth that naming your business as such improves local search optimisation – we'd recommend taking a look at this article before considering this approach for a new business name.
Closing thoughts
Local SEO is an essential tool in any businesses kit, whether you're a new business, have heritage spanning decades, offer a niche service, or have an extensive product portfolio, your GBP profile is your anchor to the local community.
Nurture it with regular checks, review acknowledgements, and keep your audience updated with the likes of Posts to help your local business prosper.
If you need help getting your profile set up, or are looking to squeeze more value from local search optimisation, get in touch. We'll be happy to sit down, grab a brew and help you grow your business in your local community.