Shopify Unite predictions 2021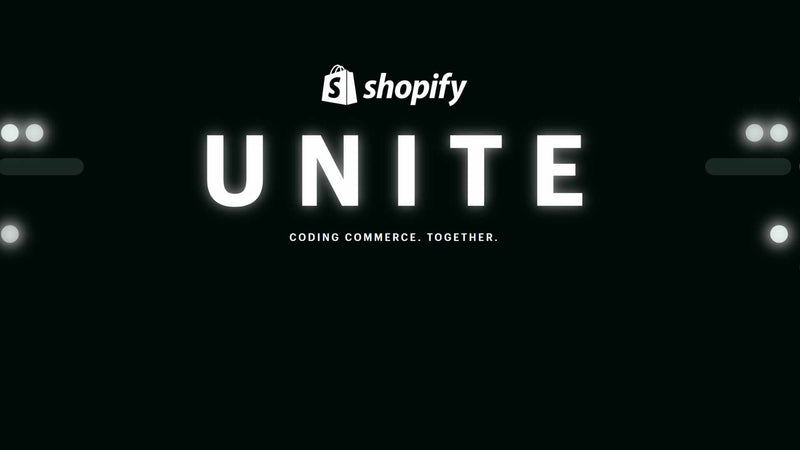 It's that time of the year again and we're making our predictions ahead of Shopify's main event of the year: Shopify Unite. Unite is available to watch live 29th June 2021 from 6:00pm BST. Following the event are Discord sessions from 7:45pm-10:00pm BST.
For our American customers the schedule times are:
Main event // 1:00pm–2:30pm EST
Discord sessions // 2:45pm–5:00pm EST
For those that can't make the event, we will have you covered in our comprehensive  takeaways from Shopify Unite 2021.
How do we make our predictions?
As mentioned in previous predictions, looking through Shopify API's you can normally gather insight into the availability of potential upcoming liquid and data that could be leveraged in your store, right now. Two great resources you can view to understand what's on the radar are developer changelog and Shopify changelog. These resources are useful for merchants and developers who want to explore the new features available to them directly in their Shopify Administration system, or via working with a Shopify Expert on theme/application development.
Here are our predictions for Shopify Unite 2021
Ability to

 

check Local Shipping/Delivery is available within your theme
Updated Hosted Payment SDK or New Checkout API allowing new ways for developers to create checkouts
More subscription payment providers

Internationalisation extended to sales channels
1. Ability to check Local Shipping/Delivery is available within your theme
As of today it's not possible to directly access the local shipping or delivery anywhere on your store via an API call or via Liquid. This means visitors of your site need to build their cart and during the checkout they can find out if local pick up or local delivery is available. We're hoping that the API calls will be made available and additionally in Liquid (Shopify's Templating Language). Making these changes will allow developers direct access to show delivery availability anywhere on the site.  
We've come across recent examples for our customers that have a restricted delivery range. These changes will mean we can check the visitor eligibility sooner, providing a better experience. Building on this, we could save the zip code/postcode for the existing session, and provide real product availability everywhere!
Probability: 8/10
2. Updated Hosted Payment SDK or New Checkout API allowing new ways for developers to create checkouts
We've seen this year that Shopify have already confirmed their existing Hosted Payment SDK is going through some changes and existing HPSDK integrations will not be able to take payments.
Citation from Shopify.dev
"We're currently not accepting new access requests for the Hosted Payment SDK because we're improving how payment partners can integrate with us. Also, as of December 31, 2021, existing HPSDK integrations will be deprecated and will no longer be able to process payments." 
We're expecting Shopify to open up the Checkout APIs to developers. This will allow merchants to become creative with the way in which they sell their products, removing the need to override the checkout button on the cart page. Expect to see new ways to bundle, discount and finance to be available directly in the checkout process! Exciting times lay ahead.   
Probability: 7/10
3. 
More 
subscription payment providers
Building on last years amazing announcement of Subscriptions being run directly through Shopify's checkout using App's such as ReCharge, we're expecting Shopify to relax the supported payment providers for subscriptions. We hope to see Stripe, Authorize.net and Braintree added to the payment providers.
Probability: 7/10
4. 
Internationalisation extended to sales channels
When using an app to do internationalisation, you can only connect the sales channels to one account. This is why it's recommended for some merchants to use an expansion store rather allowing them to connect to the territory's sales channels.
We want to see sales channels allow multiple connections.
Probability: 5/10
Final thoughts
We're excited to find out which of our predictions come true at Shopify Unite on the 29th June 2021. It's always an exciting time for us – we've been dreaming about what's coming soon and we're looking forward to implementing all of these new features into our merchants' stores.
Do you have your own predictions or highly anticipated Shopify feature request? Do you need help improving the performance of your Shopify store? We'd love to hear from you – Let's talk Shopify.
What if I miss Shopify Unite 2021?
Not to worry. Shopify Unite 2021 will be recorded and available on demand following the event on ShopifyDevs YouTube channel, with closed captioning offered in six languages: German, French, Spanish, Italian, Japanese, and Chinese (Simplified).