Key takeaways from outREACH Online 2020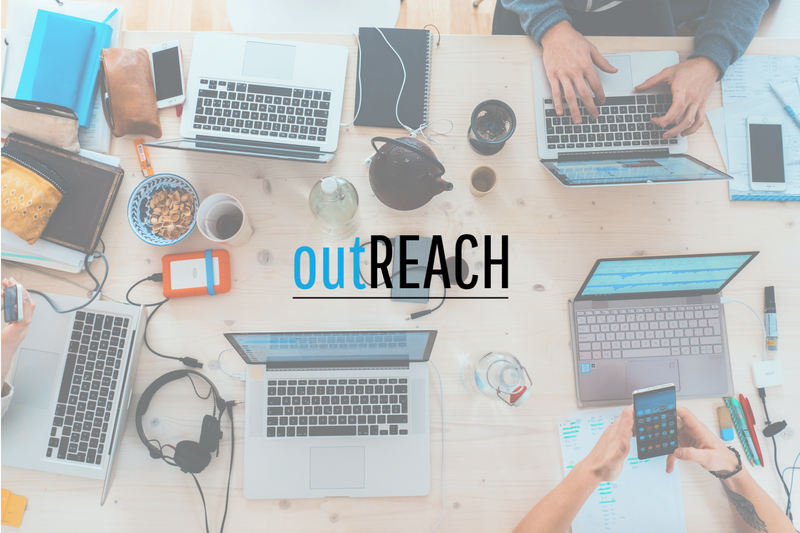 On Friday 12th June, our digital PR team tuned in to outREACH online - a full day dedicated to outreach with key speakers from various backgrounds providing actionable tips and advice for our ever-changing industry.
To help you take away some actionable tips to improve your outreach strategy, we've summed up the best advice from the event in the following sections:
Creativity is a state of mind
Presented by Kim Björnqvist, Associate Professor of Creativity and Communication at Kristiania University College.
Kim kicked off the online conference and talked to us about creativity and the importance of having an open mind.
Inspiration is the key to creativity, finding out what it is that inspires you and feeling encouraged to do more of it. Many creative ideas are inspired by nature and the things around us – in fact, did you know that the Heinz squeezy bottle top was inspired by the human heart valve?
He recognised that we all need to be aware of idea killers in creative sessions. These are usually the people who have answers like "it's too expensive" and "it's going to be too difficult to produce". It's important to explore all ideas including the good, the bad, and the ugly as you never know where an idea can lead.
Don't be afraid to fail, in fact there is nothing more inspiring than failure as it can lead to creativity!
Brainstorming can be difficult because you'll always have introverts and extroverts. When you're back in the office, try using the post-it-note method in your next ideation session so that everyone gets a chance to be heard - some of the greatest ideas can come from introverts.
During the pandemic, we've had to adapt our creativity sessions online. Think about delivering shorter speaking segments, kick-start your session with a creative exercise to get the creative juices flowing and make sure it's as interactive as possible.
Reverse engineering successful content
Presented by Mark Johnstone, Founder at Content hubble and Creative Content Consultant.
Mark delivered a fascinating presentation on how creative people take things apart to think about what they can do differently.
Before the conference, Mark put on his detective hat to deconstruct campaigns delivered by some of the key speakers to see if his theories were correct.
He highlighted the importance of collecting a range of successful campaigns and how to deconstruct them, considering how you should push things even further with a questioning attitude.
When brands come up with ideas, they usually start with one aspect from the following:
Data
Format
Topic
Research
A campaign is usually developed because an old idea is remembered. Once remembered, the wondering element kicks in, considering what else you could do with this old idea to make it better. Then comes the discussion part, getting your colleagues involved in how you can adapt on the idea and concluding with a new concept to pitch in.
When coming up with your next PR campaign, gain confidence that your idea will work by making sure the content ticks off all of the following:
Brings something new
Has something surprising
Covers a popular topic
Will generate clickable headlines
Provides a broad appeal
You need to have an inquisitive attitude when coming up with new ideas - ask questions constantly. Collect a bank of successful campaigns and articles and start to think about whether there is something missing that you can build on – creating new and curious combinations of what already exists.
The truth behind digital PR campaigns
Presented by Shannon McGuirk, Head of PR at Aira.
Shannon spread light on what it's really like to work in digital PR, showcasing that it is hard and that we need to talk about our failures just as much as we boast about our successes.
Many agencies only tend to shout about the "huge wins', giving the impression that there are never any fails.
She highlighted the amount of pressure people in the digital PR industry put on themselves, making others think that 5, 10, or 20 links can't be effective - this just isn't true.
The reality of digital PR performance can be split into three different pillars.
Huge wins - not very often
Steady performers - lots of these
Huge fails - hopefully few & far between
It's actually the 'steady performers' that are the most effective when it comes to achieving the right goals which is ultimately an increase in search visibility which will lead to an increase in revenue.
Research suggests that the majority of campaigns achieve only 1 to 20 links and being in the digital PR industry takes a lot of grit. Shannon's main advice is to review your campaigns every quarter with an aim to capture the trends in success. Openly talk about the steady performers and review your fails as an opportunity to learn and bounce back.
This industry has proven to be a sharing community, and this has only increased in lockdown. It's a huge opportunity to generate conversations, talk about experiences, be a sponge for knowledge and remember that there is no such thing as a bad idea!
Writing the perfect email
Presented by Stephen Panico, Chief Growth Officer at BuzzStream.
Stephen was keen to talk about perfecting outreach emails when trying to gain coverage.
Emailing journalists is one of the most important aspects of your campaigns. You can have the best idea in the world, but if you don't sell it in the right way, it's not going to get the pick-up.
A few of his outreach email tips included:
Being clear and getting straight to the point
Make sure your email resonates with your audience
Using colourful headings and emoji's
Holding back on a few details
He spoke about the importance of a personalised email, calling out the journalist's name in a subject line and making sure the bullet points about the campaign are unique to the journalist receiving the email.
Did you know that in general, any campaign that's outreached will have a minimum of around 100 emails sent out? This goes to show how much persistence is needed in order to hit the right journalist with the right content.
Stephen also provided some really useful tips on a tactic called 'newsjacking', which is when you find an expert within your company to provide a comment on a breaking news story.
He spoke about how you need to ready for a rapid turnaround, suggesting a WhatsApp group with your experts on hand and checking news outlets daily, with live blogs running in the background. He highlighted the importance of providing an opinion that adds value to the existing article which is also clear and concise. Information about who the expert is should also be explained in the boiler plate and consider posing a question to build further engagement.
Measuring the value of links
Presented by Lisa Myers, CEO and Founder of Verve Search.
The leading lady herself, Lisa Myers was ready to talk to us about why it's so important to measure the value of links and stop just thinking of links as a number.
When reviewing the quality of the links you've secured, the signals to evaluate are:
Trust
Authority
Readership
Consistency of backlinks
We should be creating campaigns that deserve MORE than just a link. The main target audience are the journalists and engagement is one of their most important KPIs. We need to consider how we can help the journalist deliver their targets and this is where your creative campaigns come in.
Create an asset that people will want to engage with, create content that's easy to digest and make it interesting!
Lisa went on to share details of a new tool called LinkScore that Verve have been using internally for years. It helps you understand the real value of your link building efforts - we'll be sure to take a look.
How the web landscape has changed
Presented by Rand Fishkin, Founder of SparkToro (previously Moz).
The ultimate finale of the day came from the SEO king himself, Rand Fishkin. He hit home talking about the harsh reality the pandemic has had on the economy and how things are going to change as we enter the 'new norm'.
Here's the strange reality of 2020:
There's more online attention than ever before
There's more ad inventory at cheaper prices
Budgets are down, but they will rebound
Most organisitions will be scared - it's a good time to try and save
Rand suggested that there's likely to be a lot of pent-up demand as we come out of lock-down and that budgets will rebound – there's never been a better time for organisations to experiment.
Consider your product offering and proposition: now could be a good time to launch something new to serve the new needs that your customers have? Think about your pricing strategy, can you offer more with free, extended payments? Highlight your products as a solution and consider changing tactics to accomplish your business goals.
As a digital agency, you may have previously used a positioning statement along the lines of "helping businesses grow". Now could be a good time to change this to something that reflects the current climate, for example "making your marketing spend go further".
Rand shared a few tips on strategic thinking to get us through the pandemic:
Think strategically - find the audiences who can and will still pay for your services and products
Use surveys, interviews and usage data to analyse your demographic
Audit your paid search activity with a careful eye on waste and audit your messaging and funnel
Think about re-using any paid budget saved to invest in longer term tactics such as SEO, building brand and email marketing
Segment your audience into 4 groups and target them appropriately:

Current customers
Potential customers
Potential amplifiers and media (e.g. press / bloggers / journalists)
Broader industry or interest
Rand also provided his advice on what he believes are solid tactics for right now:
Podcast advertising and guest posts
Target websites that send high value traffic
Capitalise on pent-up demand by offer free value in exchange for an email address
Test pulling back on branded search and re-purpose the budget elsewhere (other brands will have had to cut back on branded search)
Helping others which in turn will help you
Honesty and the willingness to share is so important right now. When you own a business, consider doing things that don't scale, take on that personal approach and remember that people aren't buying what you do, but why you do it.
Bringing it all together
Our top 5 takeaways from this year's outREACH Conference include:
Don't be afraid to fail as it can lead to creativity
Create new and curious combinations of what already exists
Have an inquisitive nature - always ask questions
Find the trends in success
Create campaigns that deserve more than just a link
Meta would like to thank the team at Verve Search for putting on such a great conference, adapting it online so that we could all get involved!
It's clear to see so many people within the industry are so passionate about what they do. We have a very supportive industry and these hard times have really brought us all together.
If you'd like help to drive your digital PR strategy forward, or would even just like a chat about the ways things are shifting in the industry, get in touch with the team.