How brands have used influencer marketing during lockdown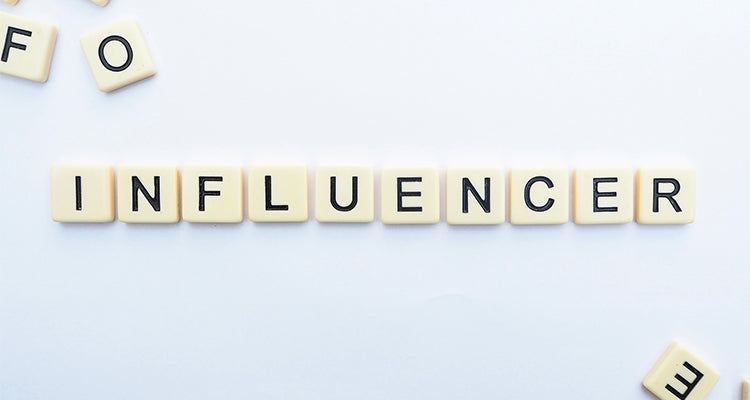 Since the start of lockdown back in March, we've seen a rise in influencer marketing and the amount of celebrity endorsements across social media.
One celebrity whose popularity has soared since the pandemic is British fitness coach Joe Wicks. His YouTube videos have attracted more than a million households who tune into his virtual PE classes. His increase in followers has drawn the attention of both Nike and Adidas, who are offering him a £5 million deal in a battle to secure him to endorse their brand.
However, some celebrities have been criticised for promoting brands during lockdown, with people questioning whether it's necessary given the current situation. Even though the normal life we're used to may be at a halt, consumers are still spending money, so there is still an opportunity for brands to be seen.
What is influencer marketing?
Influencer marketing goes together with social media and content marketing. It is a type of marketing that uses content creators, otherwise known as influencers, that have a large and dedicated following to endorse and promote a brands product to their audience. It is said that 49% of consumers depend on influencer recommendations, with 40% purchasing something after seeing it on Twitter, YouTube or Instagram.
Simply put, influencer marketing is important because it's been proven to work. More than 90% of marketers find influencer marketing to be an effective form of marketing, with 22% of marketers saying it is the most cost-effective method of obtaining new customers.
With consumers being in control of what content they wish to view; this creates a problem for brands wanting to be heard above the noise. By working with influencers, brands can increase their brand awareness, improve brand advocacy and reach a new target audience.
Brands taking advantage of influencer marketing
It's interesting to see which brands are succeeding during this time and taking advantage of influencer marketing.
Check out a few different brands below who we think are doing a great job of cutting through the noise, using influencers as a key marketing strategy through the pandemic.
In The Style collaborates with Gemma Collins
One brand known for their success using influencer marketing is 'In The Style'.
The retailer evidently understands their audience, utilising influencers to drive sales through their social channels.
One of their most recent collaborations involving TOWIE star Gemma Collins, reached over 1.6 million followers.
The concept included a collection of unisex t-shirts and jumpers, featuring prints of the stars best-known moments from TOWIE and Celebrity Big Brother.
The range launched towards the start of the pandemic, with the aim to generate some positivity within the uncertain times and a charitable donation of the sales were sent to Age UK, supporting the elderly during the pandemic.
Skillshare provides free services
Another brand on the ball with influencer marketing is an American online learning community, called Skillshare.
During the pandemic, furlough schemes have been put in place, meaning many of us have had a considerable amount of free time on our hands. Skillshare has jumped on this opportunity and decided to offer all users a free subscription for 2 months.
The offer has been widely promoted over on influencers' YouTube channels as a sponsored advert with an affiliate link. These affiliate links allow influencers to earn an overall commission for the promotion of a product or service - the higher the number of visitors and purchases via the link, the higher the commission for the influencer.
Influencers are taking over TikTok
It's safe to say that TikTok has exploded in popularity over the past couple of months, especially since lockdown. The app has 800 million active users a month, making it the 7th most used platform ahead of Twitter, Snapchat and Pinterest, with over 1.5 billion downloads.
All sorts of influencers have been jumping on this trend.
Even the likes of Arnold Schwarzenegger are using the app, participating in TikTok trends.
The Terminator created his own trend called #LikeArnold, sharing a post workout smoothie recipe, urging others to hop on the trend and share their workout routines and tips.
Having a major celebrity like this, who is above the apps usual demographic of 16-24 year olds, opens the platform to the older generation - proving that anyone can use TikTok, regardless of your age.
The use of TikTok could be massive for your brand and is a great way to increase brand exposure, especially if your target audience is primarily young people.
It doesn't all have to be about following the latest, crazy trends that people have created. There's potential to create informative videos and even showcase your business. For example, direct selling is something that is on the rise as a way for people to earn extra money and TikTok could be the perfect platform for this. The Body Shop has recently restarted their programme in the US after more than a decade to ease the hit of the coronavirus pandemic.
Fashion brands could release sneak peeks of new collections, showcase popular try-on videos and really build hype before launch.
TikTok is also readying the launch of a new augmented reality format that will allow users to add interactive visual effects from advertisers to their videos. This could be anything from newly released cars appearing in your kitchen, to being able to dance with brand mascots like Tony the Tiger from Kellogg's.
The list of possibilities is endless with TikTok and I'm excited to see where the platform goes in the future.
Final thoughts
The world of influencer marketing is constantly changing and it's evident that influencers are here to stay.
Incorporating influencers into your marketing strategy could be beneficial for your business, especially for the fashion and beauty sectors with a young target audience. It allows you to provide value to your demographic within the social media platforms they're using whilst quickly building credibility and trust for your brand.
Based on everything we've seen, influencer marketing should be on your radar as part of a rounded multi-channel marketing strategy.
Which brand do you think is nailing their influencer strategy? We'd love to hear your thoughts and talk influencer marketing together.
If you've enjoyed my thoughts on influencer marketing, why not check out Becky's post about how marketing channels are reacting to the Coronavirus pandemic.