Matt's first 6 months as part of the Herd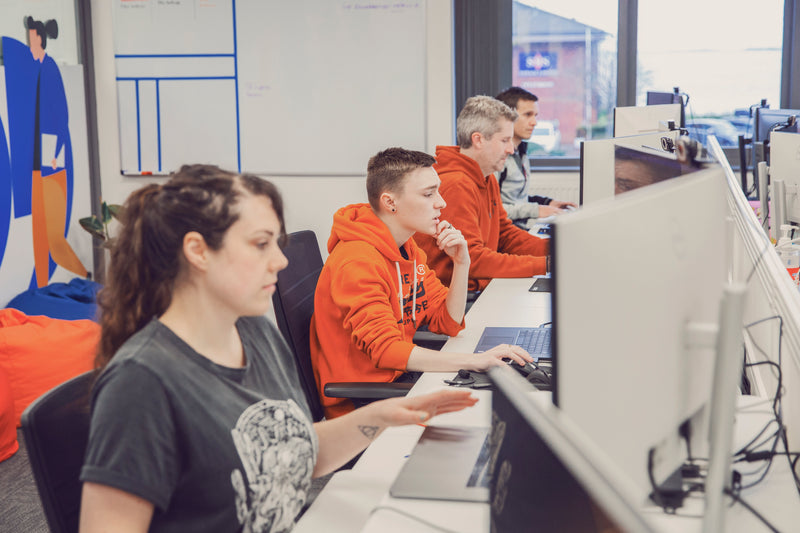 Tell us a little bit about yourself
As the Herd's Junior Web Developer, my role has me learning from some of the best web developers in the area. I create new features, fix bugs, and help manage the data behind our client's Shopify stores. I live to solve problems, I get this indescribable buzz when I solve something, it's become my lifeblood, and it's how I know that working as a developer is what I want to do as a career.
Outside of work, I'm still learning a lot about myself. I play a lot of computer games, and I build Gunpla model kits too, so some really geeky stuff. At the same time however I'm trying out a lot of new things. For instance, we had a Herd team building exercise at a bouldering gym, and I fell in love with that, and have since taken it up as a hobby.
What have you been up to so far?
I've had a hand in a lot of projects now, whether that be building them from the ground up, or offering support to other devs on bugs and snags. I think the sheer range of projects and issues I've had to complete has given me such good grounds to keep learning too. I'm moving onto my first Shopify build soon and that's a truly exhilarating feeling.
I'm incredibly proud of the work I've done so far, I have taken ownership of some projects and feel incredibly attached to them, and that feeling is second to none. I can't wait to keep going to learn and experience more!
The Herd have also had a massive influence in my social life. I began my career right as COVID kicked off and have had to cram two years of social developments into six months. Luckily, they're a very welcoming and accepting bunch, and I'm eternally grateful that I feel I can be myself at work.
What have you learned about the world of development that you didn't know before?
I started my career as an apprentice, so I was never a complete stranger to the development industry. However, I had no exposure to Shopify beforehand, so that was a big learning curve for me early on.
I'd also only ever worked on internal systems, so developing for clients that have that presence online was another adjustment I had to make. I'm really glad I took the leap though and I feel like my understanding of web development has grown so much these past 6 months, and that's mostly thanks to the amazing dev team who've had my back the whole way through.
A definite highlight for me is the SEO side of things. Ross, our SEO Manager, has a real passion for this sort of thing, and you can tell when he talks about it. Learning what I now know about SEO, and its importance from him has been one of my highlights, and I still feel like I've barely scratched the surface. I can't wait to learn more about it.
What are you hoping to achieve in the next six months?
Well, my current focus is getting rid of that 'Junior' part of my job title and becoming a full on 'Web Developer'. I love the feeling of ownership I have over the projects, and I'd love to own more of them. I have my first big Shopify build coming up which I'm really looking forward to. If I learned as much as I did in the past, my very own build will teach me so very much more.
I'm also working to expand my skillset to other CMS systems. I'm really excited to do some work and get some exposure to Umbraco in the future. 
Quickfire round
Who would be a dream client to work with?
Given I'm the office brewmaster, I would love to work with Monin, their syrups are a key ingredient in some of my personal concoctions.
What is your favourite piece of stationery?
A single paper clip. People underestimate the usefulness of the single paper clip.
Tea or coffee?
Definitely coffee, though I have a very specific method to it, one that only I trust myself with.
Favourite development tool?
I think that iTerm 2 is my favourite. I'm the kind of developer that likes to automate in as many ways as possible and iTerm 2 is just so customisable.
Favourite podcast?
I'm quite the fan of horror, but not typical scary monster stuff. I like stuff that scares me on a psychological level. The SCP Archives podcast has a lot of very outlandish concepts that terrify me to my core.