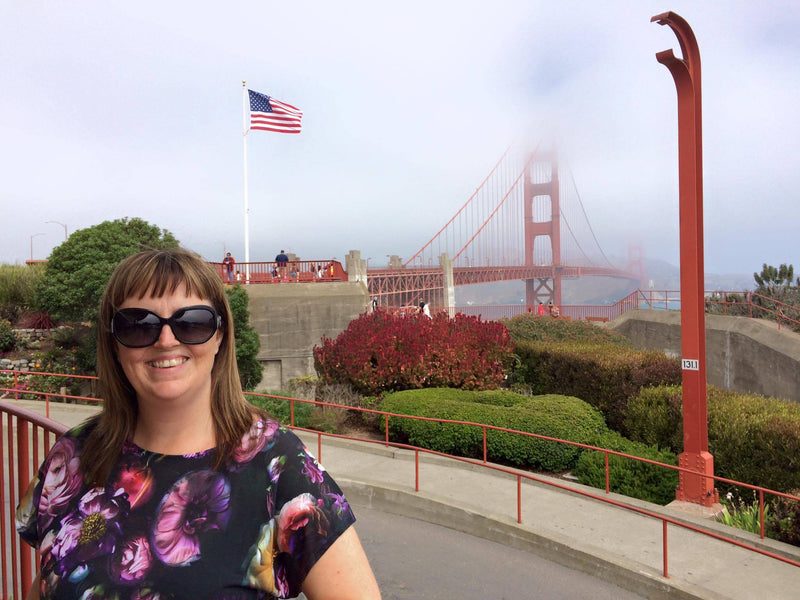 Buenos días, Buongiorno, Bonjour, Guten Tag —
I'm Jo, one of the latest members to join the expanding Meta herd during this crazy year.
It's strange starting a new role in a different sector during lockdown when everyone is confined to their home 'office'.
For me, I've completely taken over the kitchen table with my new kit, forcing the hubby and I into nightly 'TV dinners'. Staying-in is the new going out and this second lockdown has meant more binge-worthy series — this month I highly recommend The Queen's Gambit, Ratched and Dark.
Other than my current lockdown 'couch potato' status, I love practicing yoga, cooking, swimming and dabbling in a spot of interior design. I guess it's the linguist in me that means I love visiting other countries, exploring new places and soaking up the local culture.
It all started many moons ago when I lived in Spain for a year during my degree course. Fast forward another 15 years and I was then bitten by the 'road trip bug' on my honeymoon, putting the wheels in motion with my first ever USA road trip from San Francisco to Vegas. Since then, my other half and I have enjoyed planning many holiday adventures.
Unfortunately, the pandemic has meant my travelling wings have well and truly been clipped. So, for now I'll have to settle with moving house and making plans to restore an old end terrace villa to its former Victorian period glory!
Where it all began…
Before jumping back to commerce from the education sector, I spent almost 16 years working for a specialist Language College.
With a wide variety of roles and responsibilities over the years, I've led many overseas trips, exchange programmes and international projects with countries worldwide. I've managed adult evening language classes, marketing & communications and built up a community learning trust partnership comprising over 30 employers and education providers to support & enrich student development.
Although I enjoyed my job, the pandemic put things into perspective on a personal and professional level. I knew it was time for a change of direction and a fresh new challenge.
As the cliché saying goes, 'we are only here once', and it's good to push yourself outside your comfort zone - keeping the grey matter ticking over as we get older!
I wanted to combine my love of languages (Spanish, Italian and French) with my new found appreciation for marketing, and put what I have learnt to good use.
Keen to move closer to my east coast family, I've been eager to learn from the experts and make a real difference to an exciting 'up and coming' company. So, when the opportunity arose to join the herd at Meta, I jumped at the chance!
For me, it's a family affair too as one of the owners just happens to be my younger brother (not that colleagues guessed I am actually the eldest sibling thanks to Gareth's ever increasing silver surfer look!).
I am truly proud of what my brother and Tim have achieved so far with the business - they've come a long way since they started out in the home attic! It's a personal interest of mine to help Meta grow and develop into the outstanding agency of choice on a local, national and international scale!
What I've been up to so far…
My first month has been so varied and busy - which I like. I've been getting to know my fantastic colleagues in the marketing and development teams (albeit mostly virtually) and I've taken on the responsibility of collating national agency award submissions for a (fingers crossed) win in the New Year.
My creative copywriting skills have been put to the test, writing an inspirational blog post for one of our clients. If you ever need advice on how to get the most out of your decking in winter, you now know where to come!
My expert opinion was also called upon for a media quote on what I believe is the most attractive language in the world - personally, I love Italian, but the consensus still goes for French - the traditional language of 'amour'.
I've also been busy managing a huge translation and localisation project for one of our biggest clients, involving German, French and Dutch. Oh, and speaking of languages, I've started learning German too – as a linguist, you can never have enough languages under your belt!
It's not all work, work, work, even in Covid times!
So, what have been my highlights so far? Tooling up to carve out my first ever pumpkin-tastic creation for our Meta team Halloween pumpkin carving competition; winning the 'best fancy dress' costume nomination for our virtual Halloween themed quiz; and coming top in the 'who's who' new starter team quiz – well I did have an unfair advantage on that one I guess as one of the three new starters in October!
I am really excited about the future and proud to be on the Meta journey with the rest of our growing herd, working towards our ultimate mission 'to be the best agency in the North!'