A guide to Google seller ratings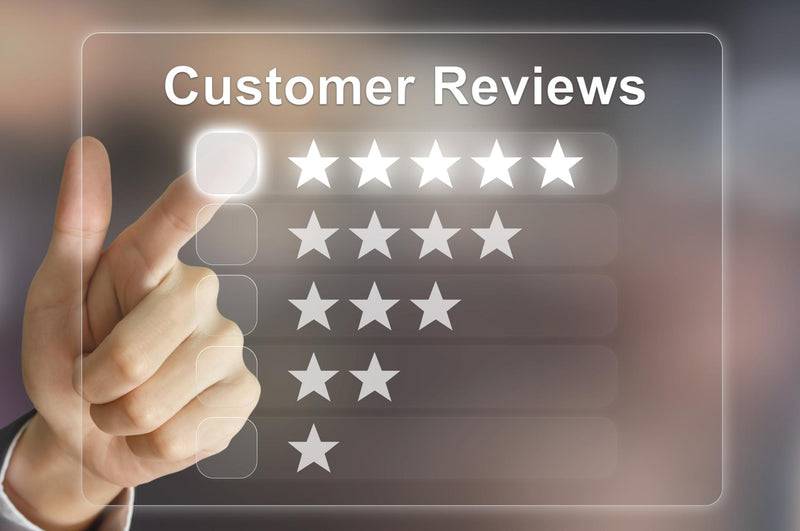 Getting your business to stand out from the crowd is difficult. Using Google Ads to help promote your products and services is often the first step to driving qualified traffic to your site. Find out how seller ratings on Google Ads can help build your brand and improve results in our helpful guide.
What is a Google seller rating?
Seller ratings ad extensions highlight customer feedback from independent review platforms showing both positive and negative reviews of their experience shopping at your store allowing other users to make an informed decision about your business.
They appear next to your shopping and search ads and display the following information:
A rating out of 5 stars.
The number of qualifying reviews that have contributed to the star rating.
Seller rating ad extensions may not show every time someone searches for your products. Google chooses which ones to show when it believes the extension is predicted to improve your performance and when the ad is ranking high enough within the results to appear.
There is no charge when someone clicks on your reviews, you are only charged if someone clicks on one of your adverts.
What are the benefits of Google seller ratings?
Our top benefits for using seller ratings include:
Better visibility – stars next to your ad make it stand out from the rest of the results.
Trust signals – in 2021 90% of UK shoppers surveyed said they checked online reviews before buying from a business.
Higher CTR – Google have witnessed an increase in click through rate by up to 10% on ads that are showing seller rating extensions.
Lower CPC – for those running advertising, the increase in CTR can lower the cost per click.
How do I start collecting reviews?
There are several ways you can start to collect ratings, including Google customer reviews and a number of independent review websites.
Google customer reviews
A free service that allows you to collect reviews after the consumer has purchased a product from your website. You can enable this within Google Merchant Center. You can find out more about how to implement Google Customer Reviews here.
Pros of Google customer reviews
Free service - though you may have to pay your development team to integrate the code needed on your website.
High visibility - Google's global market share sits at 86% as of December 2021. This means that your reviews are more likely to be found and reviews will be shown on your Google Business profile, Google Maps and knowledge graph.
Trustworthy - Google will filter out reviews that it feels are untrustworthy or questionable.
Cons of Google customer reviews
Limited support - little opportunity for support from Google with fake or spam comments.
Comments not required - you do not need to justify your star rating with commentary.
Limited validation - consumers do not have to come through the reviews programme in Merchant Center and can leave a review on your Google Business Profile without proof of purchase.
Independent reviews websites
Google provides a list of independent reviews partners here.
One of our chosen partners is reviews.io. As a partner we have access to a range of benefits to help you drive sales and brand trust including exclusive discounts on platform packages.
Pros of independent review websites
eCommerce integration - most reviews partners offer a seamless integration solution that allows you to connect their platform to eCommerce platforms such as Shopify.
Loyalty integration - some reviews platforms allow you to connect with loyalty apps like Klaviyo and Loyalty Lion.
Import Reviews – many reviews platforms allow you to import reviews from providers you have used in the past.
Support – easy to navigate knowledge base, online chat, email and telephone support are available.
Widgets – customisable widgets to be added to your site so that you can build brand trust on your site.
Review types – third party platforms allow for supporting images to be uploaded alongside reviews, you can even request video reviews.
Cons of independent review websites
Pricing - some independent review platforms can be costly.
Negative reviews - you cannot negate these on any platform.
Management - any review platform is an additional customer service point that needs to be managed by your team, finding the time to do so can often be difficult.
How do I enable Google seller ratings?
For your seller ratings to start showing you need to meet a list of criteria set out by Google:
An average star rating of 3.5 or more stars for text ads.
The domain in the ad must match that for which ratings have been given.
Your reviews must be from either Google Customer Reviews or the list of approved review partners.
On average most retailers must have a minimum of 100 reviews within the country they are advertising over the last 12 months.
Within Google Ads, seller ratings are an automated extension that will start to show once you meet the criteria laid out above. Don't expect this to happen as soon as you hit those magic numbers, it can often take weeks afterwards for them to start showing.
For your review ratings to show organically as a rich result, you must ensure that the correct schema is added to your website.
How do I check my seller ratings?
To check if your ratings are showing you can visit the following web address:
https://www.google.com/shopping/ratings/account/lookup?q=www.example.com
You should replace the www.example.com with your website's homepage URL.
If you are unable to see any information regarding your store or seller rating this could be because your store doesn't currently meet the minimum criteria.
Can I opt out of seller ratings?
Whilst we recommend you keep seller ratings enabled it is possible to opt out.
To opt out of automated seller rating extensions you need to log in to your Google Ads account and take the following steps:
Select 'Ads & extensions' and click on 'Extensions' in the sub menu.
Scroll to the bottom of the screen and select 'AUTOMATED EXTENSIONS'.
Select the three vertical dots above 'More' on the right-hand side of the screen and then choose 'Advanced Settings'.
Expand 'Seller ratings' by clicking on the panel.
Select 'off' and then click save.
How to improve your customer reviews
You should always encourage your customers to leave reviews at the right time after purchase.
When setting up review collection through automation you will be given the option of how long after purchase the email is sent. Setting up the correct flow will allow you to package and dispatch your order and for it to arrive before the customer receives the email.
Responding to reviews
It is vital you manage your online reputation by managing your reviews across all platforms. You are then able to build trust through consistency by replying to reviews.
Responding to positive reviews is important as these people are the bread and butter of your business. It shows people that you actively monitor your review accounts and that you care about the experience they have had.
5 tips for responding to positive reviews
Share - share what people have said about their experience with both current and prospective customers on your social channels. Not only will this make the person who left the review feel important, others will see the good vibes.
Thank them – this person has taken time out of their day to leave you a glowing review, thank them so they know that their feedback didn't go unnoticed.
Be personal - ensure you re-iterate the points they have mentioned in the review, thank them by name for a personalised touch.
Be brief - don't write war and peace, keep it simple and straightforward and get to the point.
Invite actions - ask the customer to share their experience with their friends, ask them to follow you on your social channels and share images of their purchase or to shop with you again.
Responding to negative reviews can be tough, even if you don't believe the customer is right. There is no such thing as a bad review, how you handle your response is most important.
5 tips for responding to negative reviews
Timing - a prompt response to a negative review will show people that you are actively monitoring your review platforms. The longer you leave it the angrier the customer could get.
Acknowledgement & apologies - recognising and confirming the issue it shows that you have read the comments left by the customer. Whilst it needs to be sincere, offering an apology can help appease the customer even if you don't feel they are right.
Keep calm - you shouldn't take it personally, try to use a calm tone of voice in your response. Avoid aggressive vocabulary, don't address it as 'their problem' as this may lead to further negativity.
Take it offline - rather than get into a debate in a public space, send the customer an initial response and invite them to contact you privately for a resolution.
Ask them to change the review – once the matter has been resolved, ask the customer to change their review, alternatively you may want to comment and thank them e.g., Glad we could help resolve the issue.
By collecting reviews, you can analyse the feedback helping you understand customer satisfaction and areas for improvement. It allows your customers to have a voice and will help not only create customer loyalty but allows potential customers to read impartial comments building brand awareness.
Talk to us today about how Google Ads and seller ratings can help grow your business.