The herd's favourite April Fools campaigns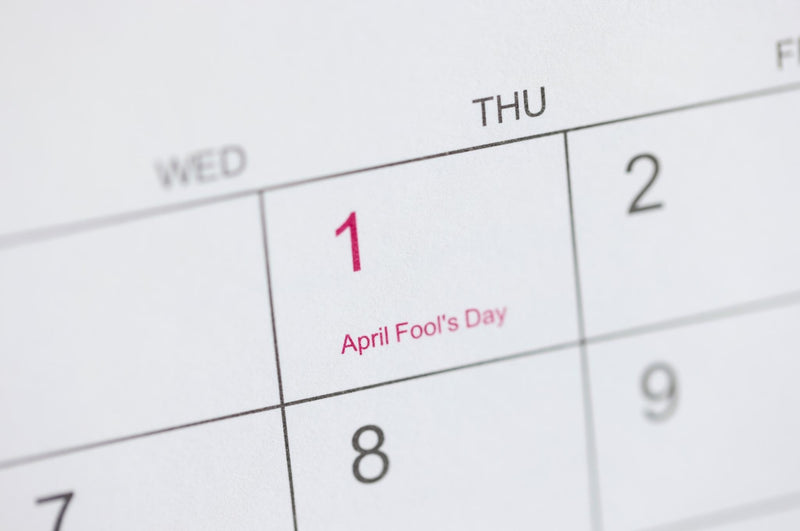 It's the cheekiest of holidays, April Fools. For years, April Fools has been a staple of marketing calendars across the globe. Brands as large as Coca-Cola have been getting in on the action, aiming to build their brand up into the stratosphere.
Sadly, the coronavirus pandemic saw interest in April Fools sink to a 2 year low, according to Google Trends, rebounding in 2021 as restrictions were lifted. It's due to be a big year for April Fools, and we're an excited bunch here at Herd.
With that in mind, I asked the herd to share with me their favourite April Fools marketing campaigns - and boy are there some good ones.
Wimbledon centre court turns purple
Northern Monk Brewery x Seabrooks
Mark for H&M
Matt - Junior Developer
Why I love it
I used to wear very similar clothes everyday when I went to sixth form, so it applies to me too, but I love how it makes fun of the limited fashion sense of the tech CEO. The tagline of 'One less thing to think about in the morning' especially cracks me up. The best bit is he's aware of it too, he posted when he came back from paternity leave what he should wear upon his return, with a picture of his wardrobe which was full of grey t-shirts.
Wimbledon centre court turns purple
Ian - Project Manager
Why I love it
With the Summer just around the corner, all the fair-weather sports people will be gearing up to get active and tennis is one of those that sees an increase in participation when the sun comes out. So, with Robinsons being so iconic with the sponsorship of the Wimbledon Tennis Championships, it was great to see them getting creative publicising the sport and their product at the same time. I follow all kinds of sports and this April fools particularly tickled me last year.
Argos Destiny Shopping
Pete - Digital Strategist
Why I love it
For a brand to do April Fools, it means they are prepared to have a bit of fun with the brand and it can be a great way to build brand advocacy and even some backlinks. Argos back in 2014 did just that, their April Fools joke was promoting the launch of 'destiny' shopping with digital crystal balls in their stores.
Britbox Interp-Brit
Adam - Content Strategist
Why I love it
Streaming service BritBox, which specialises in British TV shows to audiences across the globe developed a beautifully simple April Fools campaign that shows they know their target audience perfectly. The idea was to make accents easier to understand, with the "Interp-Brit" dubbing American voices on top of famous British programs. It worked so well because it encapsulates a running joke in the international community, particularly in the US that we Brits are fairly difficult to understand. Brilliant stuff!
Northern Monk Brewery x Seabrooks
Chris - Digital Marketing Lead
Why I love it
Northern Monk Brewery shared a mock-up of their new "Cheese & Onion" and "Prawn Cocktail" flavoured beers on April 1st, 2021, in collaboration with Seabrooks crisps. Little did we all know, this was a double bluff and Northern released these cans on general sale shortly after the initial post. I liked this campaign due to their smart use of April Fool's Day for the real shock factor that they were in fact actually being brewed!
TalkTalk's Woof Woof
Leah - PR & Content Executive
Why I love it
In the mockumentary-style ad, TalkTalk claimed that there were over 439k dogs on Facebook, but no service to allow them to communicate. By partnering up with the British Animal Research Kennels (BARK), the two claimed they had created software that would translate a dog's bark into plain English text that they could use to communicate online. By far my favourite April Fool's stunt, due to the methodology behind it, which plots every finer detail of a fictional tool's workings.
BBC Flying Penguins
Ross - SEO Manager
Why I love it
Whilst not a typical eCommerce campaign, there is a lot to like here. The use of something as well-regarded and trustworthy as the BBC and the narration from a David Attenborough impersonator would laugh in the face of today's E-A-T guidelines. This illustrates how easily we trust authoritative resources, as do search engines. Another reason I love this is simply because, like most sane individuals, I like penguins.
Google & Comic Sans
Abi - Web Developer
Why I love it
The day that Google announced it would be converting all search results to Comic Sans was a dark day for us all… thank god it was an April Fools joke. The only appropriate place for Comic Sans is comics. I will die on this hill. 
Duolingo Roll
Jo - Head of Translation
Why I love it
I liked this 2021 April Fools campaign from language learning app Duolingo, who announced it was launching its own branded 'Duolingo Roll' of toilet paper, with the tagline "Language learning is hard……so we made it soft!" It's true that when it comes to language learning, practising little and often is the key to success. I have often tried to squeeze in a spot of new language learning on-the-go, as a passenger in a car, on the train, and even mid-flight. But, even I draw the line at learning the lingo on the loo!
Our very own Becky Allbones is no stranger to the April Fools campaign. Back in 2018, she was instrumental in winning a 'Best Content Marketing Campaign' award for her work with Durex - in which the brand created a range of three condom flavours inspired by British favourites. Discussing the campaign, Becky said:
"I might be biased but I'd have to say the Durex Best of British is my favourite April Fools PR campaign – because it was award winning and an idea that I supported with.

"The 2018 campaign featured three hoax condom flavours: Sunday Roast, Fish and Chips and Chicken Tikka Masala.

"A product landing page was created to host the products that featured digitally designed fake product packaging, a blog post highlighted the launch of the products and then a press release was syndicated to generate awareness and secure coverage in relevant publications.

"The campaign was featured in numerous high-profile sites including The Drum and people even created memes around the product. The concept even picked up an award for Best Content Marketing Campaign at the Performance Marketing Awards!"
If you're looking to go viral with an April Fools marketing campaign and want the support of an award-winning team, why not get in touch? You're in good hands with our herd of Digital PR experts.