Abi's first 6 months as part of the Herd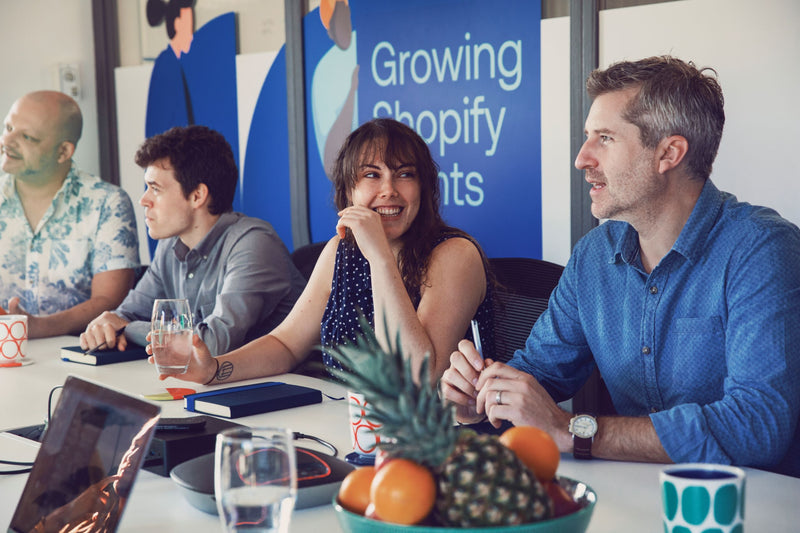 Tell us a little bit about yourself
I work as a Web Developer at Herd and spend my time split between building websites, ideating solutions with the other devs, and showing what we do to our clients so they can get the most out of their Shopify sites.
I start every day with yoga and meditation and usually finish up with some reading – I just finished Barack Obama's presidential memoir! It wasn't exactly bedtime book material, but at 750 pages I wanted to brag about it at least once.
What have you been up to so far?
The last 6 months have been so significant for me, not least because this is my first developer role after making the decision to retrain and change careers.
Moving from being a well-respected and experienced project manager to being the most junior member of the dev team was a huge challenge in itself, but I've made a conscious effort to not let my own internal high standards stop me from asking silly questions.
The whole team has been so welcoming, and our Christmas Party and recent team mini-golfing event were both so much fun. It's brilliant to work with a group of people who I also love socialising with!
I've began fixing bugs and minor changes and moved to building a full Shopify store, and now I'm leading an upcoming build project. Every new step comes with its own set of challenges and learnings and the attitude I brought to day 1 of 'no silly questions' has helped me at every stage. It's great reminder that trying to look like an expert is no replacement for the everyday learning that will actually make you one!
There's plenty more to learn in the future, especially with Shopify Markets and other features in the pipeline, and I'm excited to continue expanding my knowledge.
What have you learned about the world of development that you didn't know before starting?
There is literally too much to list, so here's a few of my highlights.
I've learnt everything I know about Shopify development, and seen some pretty amazing things that we can do for our commerce clients leveraging the platforms in-built functionality.
I've become a better coder, both through the mentorship of my team and through the chance to solve real world problems.
I've learnt so much more about performance and page-load speed, and I know for sure this area of knowledge is only going to grow working with the Herd.
What are you hoping to achieve in the next six months?
I'm currently working on our very own model of Shopify's fairly newly released Storefront Filters, and I can't wait to see that in situ and working on a store for one of our clients.
I'm hoping to keep digging further into JS - including code splitting, making our sites more performant, and possibly delving into web components later in the year.
Obviously, I'm also excited about seeing lots more builds go live this year! Every project brings its own set of challenges and therefore a unique satisfaction in doing the best job we can.
Quickfire round
Who would be a dream client to work with?
Minor Figures – I go through my fair share of oat milk and I just think they have the coolest brand.
What is your favourite piece of stationery?
A pen that just makes you feel good about writing.
Tea or coffee?
Coffee.
Favourite development tool?
VS Code.
Favourite podcast?
There's a fantastic podcast called Command Line Heroes that has taught me a lot about the history of computers, the web, and development in general.
For more insights from the herd, don't forget to take a look at our Journal, and if you want to speak to Abi about her time at Herd as a dev, drop her an email.