Meta win two Global Digital Excellence Awards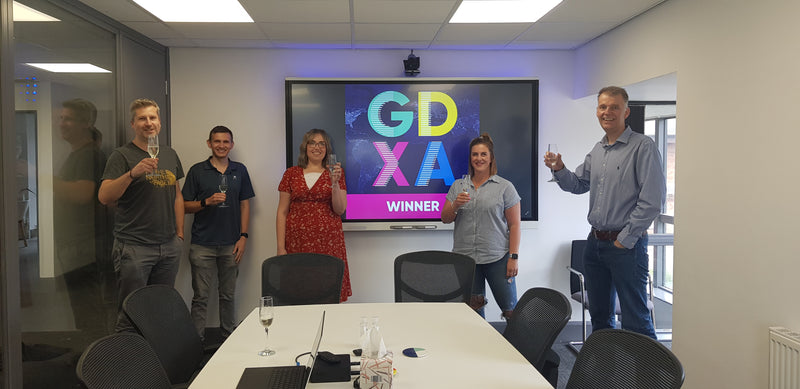 The Global Digital Excellence Awards, known as #GDXAwards celebrate the very best in digital excellence across the globe from big and small, to local and international businesses.
These awards recognise and celebrate innovation, creativity, engagement and success.
The accolades and trophies are awarded to teams who demonstrate their creative thinking in website design and marketing strategies. They highlight innovative use of data and technical implementation across campaigns, pioneering tools and game changing technologies.
It's about celebrating teams who ensure growth and profitability for their partners.
Working in partnership
Thanks to our collaborative approach with consultancy agency Customer First Digital, this award series gave us a real opportunity to be recognised for our website development and performance marketing work on the Shopify Plus platform.
For us, it's not just about delivering a website, but more about being an extension of our partners team, providing solutions with a measurable return on investment.
By partnering with Customer First Digital to support 'Face The Future', an ecommerce cosmeceutical company, we maximised their multi-channel marketing to deliver outstanding results.
Award winning submissions
Dozens of brands and agencies competed across 40+ categories. Both of our submissions, were shortlisted.
We were delighted to watch the virtual award ceremony on 29th July and learn that we had won not one, but both of the awards.
You can view the other winners and watch the online ceremony from the awards night here.
Why did we win?
Following the successful deployment of a bespoke Shopify Plus eCommerce build, FTF are enjoying record sales and exceeding migration forecasts due to major improvements in user experience and optimised site functionality.
A careful SEO migration from PrestaShop to Shopify, combined with a rounded digital strategy also resulted in an outstanding uplift in organic search visibility, customer sentiment, and conversion rate.
Client Feedback 
"Due to the size and scope of our project (moving from PrestaShop to Shopify Plus), Face the Future knew we needed a development company who shared our vision, and Meta certainty did.
Gareth, Tim and the team have been exceptional throughout, and the results have already shown the benefit for moving to Shopify Plus. In just 4 weeks we have already seen an increase in revenue of 26% per day, which is incredible!"
Mark Till, Head of Ecommerce at Face the Future
Final Thoughts
We're all immensely proud of the amazing work our talented herd are producing with the Shopify platform to develop award winning eCommerce websites.
That's why we're known for #GrowingShopifyGiants and have set our sights on becoming the best Shopify growth agency in the UK.
Here's to a few more award winning submissions in the future - watch this space!